The Vietnam Professional Football Company (VPF) – newly established to run the Vietnamese League and first-division tournament instead of the Vietnam Football Federation (VFF) – made debut in Hanoi Wednesday with its first shareholders meeting.
Mr Vo Quoc Thang, boss of Dong Tam Long An Club, was selected chairman of the board of directors, as VFF vice chairman Le Hung Dung announced he did not assume the position. Mr. Dung was named VPF vice chairman.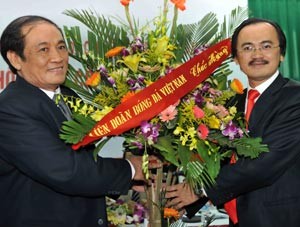 Vietnam Professional Football Company chairman Vo Quoc Thang (R) congratulated by Vietnam Football Federation chairman Nguyen Trong Hy during the first VPF shareholders meeting in Hanoi Dec. 14, 2011 (Photo: SGGP)
Mr. Thang is an experienced businessman who is now chairman of the association of young entrepreneurs of Vietnam.
Two other vice chairmen of VPF are Hoang Anh Gia Lai Group boss Doan Nguyen Duc and Asia Commercial Bank (ACB) co-founder Nguyen Duc Kien.
Mr. Pham Ngoc Vien, another VFF vice chairman, was selected as CEO of VPF. The two deputy CEOs are Pham Phu Hoa, former managing director of Dong Tam Long An, and Saigon Football Club chairman Luu Quang Lam.
Former VFF vice chairman Tran Duy Ly was appointed managing director of the Vietnamese League, from now on called V-League 1. Meanwhile, the first-division tournament, now called V-League 2, is managed by VFF deputy general secretary Nguyen Huu Bang.
Right after the shareholders meeting in Hanoi, VPF chairman Thang said, "I expect that VPF will get support from the general public, especially the media. Only if given with that, Vietnamese can change positively and develop more."
Mr. Doan Nguyen Duc is responsible for financially funding the national squad and the country's younger teams.
The founding of VPF came from initiatives by the chairmen of the 14 V-League clubs and cooperation from the Vietnam Football Federation, which had run the Vietnamese League and first-division tournament until 2011.