BOLTON, United Kingdom, April 24, 2011 (AFP) - Bolton boss Owen Coyle hailed Tamir Cohen on Sunday after the Israeli midfielder staged an emotional tribute to his late father after scoring the winner in the 2-1 win over Arsenal.
Cohen headed home to secure the three points and celebrated by ripping off his jersey to reveal a T-shirt bearing a picture of Avi Cohen, the former Liverpool player who was killed in a motorcycle crash in December last year.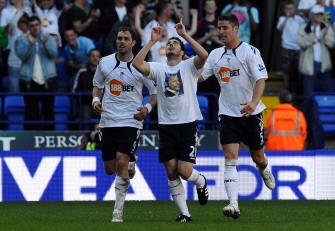 AFP - Cohen (c) celebrates scoring the winning goal by revealing a t-shirt in honour of his late father, former footballer Avi Cohen
"It was a very emotional winner for Tamir given he has lost his dad. It was fitting he got the winner on such a wonderful day," said Coyle.
"He's had such a difficult year. He had an operation last summer and came back and was behind the lads in terms of fitness and has worked hard to get back into the team."
Coyle revealed that Avi Cohen had "spent a week at our training ground" last year and that "the players all got to know him well".
"Tamir has such a huge burden of responsibility as the leader of his household. He has trained every day as if it was his last."
The Bolton midfielder was booked after taking off his shirt to celebrate the goal with referee Mike Jones later appearing to apologise to Cohen for having to caution him.
"I came on to help protect the 1-1 and was so happy to score this goal," the 27-year-old Israeli said. "It's a very emotional moment for me after this season."