LONDON, March 4, 2010 (AFP) - Peter Crouch hopes he has given Fabio Capello a selection headache as the England coach debates which striker should partner Wayne Rooney at the World Cup.
Crouch came off the bench to score twice in England's 3-1 win over Egypt at Wembley on Wednesday and the Tottenham forward now has 20 goals in 37 international appearances, including four from his last three games.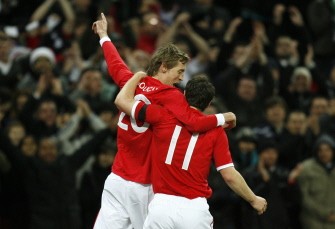 England's Peter Crouch celebrates scoring his goal against Egypt with England's Gareth Barry during an International friendly at Wembley Stadium in London on March 3, 2010. AFP PHOTO
It is a remarkable record for a player who has spent most of his England career playing second fiddle to more illustrious names and he now has a strong case to start alongside Rooney when Capello's side kick off their World Cup campaign against the United States.
"I'm very proud of my goal record for England," Crouch said. "I always feel whenever I play for England I am going to get chances because we have so many creative players and a lot of ability. At the minute I seem to be putting them away.
"When you come on as substitute you just try to make an impact and the biggest impact is scoring goals. Getting a couple of goals is fantastic and hopefully it has given the manager something to think about.
"If he was going to play one up front everyone knows it would be Wayne Rooney but with two up front there is another place up for grabs.
"Everyone knows we have a bundle of strikers who are desperate to play and I am just one of those."
Crouch is far too polite to mention it, but he could also point out that Tottenham team-mate Jermain Defoe struggled to make any impact in 45 minutes as Rooney's partner against Egypt, while Emile Heskey is out of form with Aston Villa.
Capello used Heskey as the battering ram that allowed Rooney to run riot during the qualifying campaign, but he has refused to guarantee the former Liverpool star his place, opening the door for Crouch.
"Emile has done extremely well in the qualifying campaign. We qualified with flying colours and he was a major part of that," Crouch added.
"For me I have always felt when I played I have never let anyone down. I'd love to be starting but obviously that is up to the manager.
"I've always felt confident I would be part of the squad, it's just a case of starting. No one wants to be on the bench, you want to be in the team."
While Crouch looks certain to be on the plane to South Africa, Theo Walcott concedes he still has work to do to make Capello's squad.
Arsenal winger Walcott produced an under-whelming performance on his return to the starting line-up after an injury-ravaged season and was replaced by Shaun Wright-Phillips, who scored one and set up another.
"Without a doubt I've still got a lot of work to do to get a place in the World Cup squad. There is a lot of competition and we want all our players back fit," Walcott said.
"I am just finding my feet now. I need to play consistently for Arsenal until the end of the season and stay fit. That is the most important thing.
"It feels like pre-season at the moment because I've only had seven games. It has been up and down this season.
"You want to start every game, but you have to ask the manager who will get the spot. It's fantastic that he had the faith in me to start."
The Gunners winger gave the stand-out display of England's qualifying campaign when he scored a hat-trick in the 4-1 win in Croatia, but he refuses to dwell on that moment any longer.
"For me the Croatia game is in the past. It seems a long time ago," he said.
"After all the injuries I've had it has been very frustrating. I've just been trying to get fit and not think about the past because that would put a lot of pressure on seeing that again."