JOHANNESBURG (AFP) - South African skipper Aaron Mokoena said the raucous crowd was a "weapon" for the home side, praising the way his young team-mates had risen to the challenge in their 1-1 World Cup draw against Mexico.
Mokoena was upbeat despite a late goal that denied the hosts a famous victory in front of nearly 85,000 fans at Johannesburg's Soccer City stadium on Friday.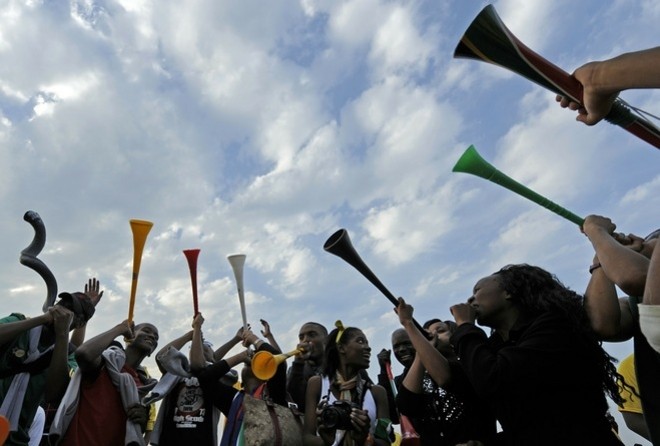 Fans play vuvuzela horns at South Beach in Durban on June 11, 2010 on the first day of the 2010 World Cup football tournament. AFP photo
Mokoena said the deafening noise from the crowd with thousands of blaring vuvuzela horns was "our 12th man that we need. It's our weapon."
"We don't mind vuvuzelas at all."
Midfielder Teko Modise also praised the crowd.
"We're encouraged about the support. It's great to see them coming in numbers to support us," he said.
Midfielder Siphiwe Tshabalala gave South Africa the lead after drilling home following a superb pass from play-maker Steven Pienaar on 55 minutes only for Rafael Marquez to grab a late equaliser.
"Today it was important that we didn't lose the game which is very, very good. We created a lot of chances, which was very good, we defended well as a team and we take positives out of the game," said Mokoena.
"Their strikers are quick and strong and we were worried about them. We needed to be mentally tough and focused at the start. We played really well in the second half and we deserved to win the game, though we need to use this as a springboard and build on it.
"We've got to build from the first game and the confidence is still there among the boys."
Everton midfielder Pienaar agreed that South Africa deserved to take all three points on the strength of their second half showing.
"We just have to go on and we can only get better now. We played against one of the best teams in the world and to walk away with a point, I think we must be proud of ourselves," he said.
Man of the match Tshabalala said the team did well after a shaky first 20 minutes.
"Maybe we missed a few chances but the good thing is that we created them in the first place. The rest is just a question of time. More goals will come.
South Africa next face Uruguay in Pretoria on June 16 and then France in Bloemfontein on June 22.