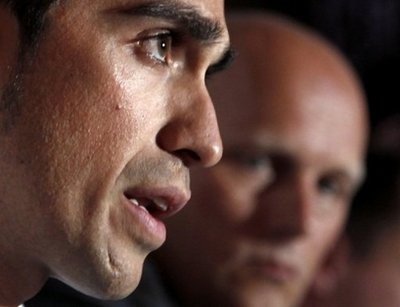 AFP file - Spanish cyclist Alberto Contador (left)
MADRID (AFP) – Spain's cycling federation, the RFEC, may clear three-time Tour de France champion Alberto Contador of using performance-enhancing drugs, Spanish newspapers said on Monday.
The RFEC, which last month recommended a one-year ban for Contador, has been convinced by arguments put forward by the Spaniard himself and may decide to clear him, the dailies El Pais and El Mundo said on their websites.
"The disciplinary committee of the RFEC has summoned Alberto Contador tomorrow (Tuesday) to inform him of its final decision," El Pais said.
According to "sources close to the committee, which met last week, its members are leaning toward clearing him," it said.
El Mundo said the cyclist would be summoned on Wednesday to hear the decision.
The RFEC was not immediately available to comment on the reports.
The committee can either clear Contador, confirm its original recommendation of a one-year suspension or increase the ban to two years, the amount stipulated under international regulations for such a doping offence.
Contador's future has hung in the balance since he announced last August that he had tested positive for minute traces of the banned substance clenbuterol during last July's Tour de France.
He has repeatedly denied taking any banned substances, blaming the result on a steak he claims was contaminated by the drug.
On Thursday, Spanish Prime Minister Jose Luis Rodriguez Zapatero got behind Contador, saying: "There is no legal reason to sanction Contador."
If the International Cycling Union (UCI) does not agree with whatever sanction is handed down it can ask the Court of Arbitration for Sport (CAS) to seek the punishment it believes Contador merits.
Contador also has the possibility to appeal to CAS.
Clenbuterol is a banned weight loss/muscle-building drug that is also used to fatten cattle.
It was banned by the European Union in 1996 but it is still administered illicitly by some cattle farmers.