The Ministry of Culture, Sport and Tourism and the General Department of Sports and Gyms on September 24 has officially pressed the button of the countdown clock for the fifth Asian Beach Games, 2016 (ABG5), 365 days ago before the opening ceremony of the event.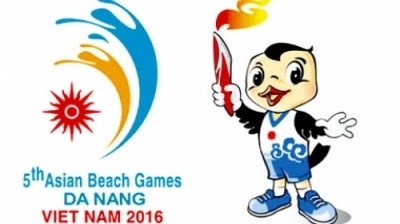 The logo and mascot of the 5th Asian Beach Games – Da Nang 2016
The countdown clock measures 21m long and  5m high. The timer was installed at the traffic-circle in Han River Bridge to greet ABG5 which is scheduled from September 24 to October 3, 2016.
An estimated 10,000 people, including nearly 3,100 athletes, 1,500 trainers, 550 international supervisors, referees, technician  from 45 countries across Asia will gather in Da Nang city for the largest beach games.
There will be also 900 local referees, 2,200 volunteers and around 600 local and foreign journalists to join the event.
ABG 5 will feature 165 sets of medals in 22 events: swimming, water polo, Kabaddi, men's football, volleyball, handball, basketball, woodball, sepak takraw, wrestling, Sambo, Jujitsu, Kurash, Pencak silat, Vovinam, Muay Thai, Vietnam martial arts, shuttlecock, petanque, bodybuilding, athletics and rowing.