On September 1, the Da Nang International Marathon 2013 was kicked off from Bien Dong Park in Da Nang City with the participation of nearly 3,400 athletes from 25 countries.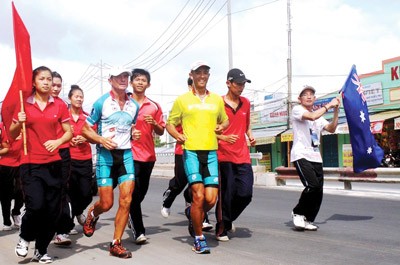 the athletes ran a marathon
In the competition, the athletes ran a marathon covering 42,195 kilometers and a half marathon covering 21,975 kilometers.
Vietnamese athletes did well in the half marathon with athlete Le Van Tuan winning first prize and athlete Pham Van Long winning the championship with timing of two hours, 56 minutes, 31 seconds. In the women's half marathon category, athlete Pham Thi Binh won first prize for timing of one hour, 24 minutes, 15 seconds.
This is a huge sports event which is held to mark the 68th anniversary of the August Revolution and National Day on September 2 by the People's Committee of Da Nang Province and the World Marathon Inc Company.