BLACKPOOL, England, Jan 13, 2011 (AFP) - Kenny Dalglish admitted he has some "big challenges" ahead after Blackpool condemned Liverpool to another surprise 2-1 defeat at Bloomfield Road here on Wednesday.
Goals from Gary Taylor-Fletcher and DJ Campbell helped Blackpool earn their first double over Liverpool since 1947.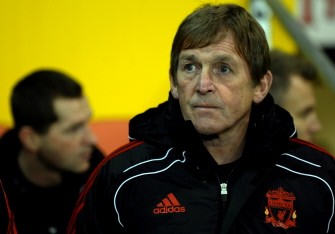 Liverpool manager Kenny Dalglish arrives for his first English Premier League football match in charge as they take on Blackpool on January 12, 2011. AFP
Blackpool came from a goal down after Fernando Torres's early finish to prove their win by the same scoreline at Anfield in October was no fluke.
This was Reds great Dalglish's first league game in charge of Liverpool for almost 19 years after replacing Roy Hodgson on an interim basis until the end of the season.
The position could be his on a full-time basis if he fulfils the criteria laid down by Damien Comolli, the club's director of footballing strategy.
Dalglish is a unifying force at Liverpool. He is looking to salvage something from a season that has lurched from disaster to disaster, with this result only heightening the gloom at Anfield even further ahead of the weekend's Merseyside derby against Everton.
"We are obviously disappointed we have come away from the game with no points," Dalglish said after watching Liverpool slip to 13th place in the Premier League, just four points above the relegation zone.
"Fernando finished really well and their first goal came from a misplaced pass that beat Daniel Agger and they put it away well.
"We didn't pick up on the second goal, so there are a couple of things for us to sort out.
"We are working in our own way and the players tonight (Wednesday) had commitment and effort, which was pleasing.
"It's obviously a big challenge and very seldom do you walk into a job with no challenges. Certainly the encouraging sign is the attitude and commitment of the players."
The reverse was Dalglish's second consecutive defeat following the FA Cup loss to Manchester United on Sunday -- hardly the ideal return to a job he has coveted since Rafa Benitez's pre-season departure.
"A lot played against Manchester United with 10 men on Sunday so it was great credit how they played tonight," said Dalglish.
"So we have some positives. But the most positive thing would be to get some points," the former Liverpool and Scotland striker added.
"The harder we try, the luckier we will get," Dalglish said in an echo of a celebrated remark by South Africa golf great Gary Player.
"Every team that has ever been successful has needed luck and at the moment that is going against us.
"But the longer we stick in and stop feeling sorry for ourselves, the quicker that will change. We have a lot of work to do.
"The intention and determination of the players is quite pleasing. They are showing the commitment to the club that it deserves"
Delighted Tangerines manager Ian Holloway labelled the win, which saw his side rise to ninth in the table, said the result was his finest at Blackpool.
"That's the best of the lot I think," he said.
"After they took the lead it could have been a long hard horrible night but I'm so proud of my lads.
"If you told me would beat Liverpool home and away before the season I would think you were doolally."
Meanwhile Holloway urged Charlie Adam to stay at Bloomfield Road.
Several Premier League clubs have expressed an interest in signing Adam this month and the Tangerines have already rejected a 3.5 million pounds (5.5 million dollars) bid from Birmingham City for the pivotal midfielder, who has 18 months left on his Blackpool deal.
"If they want to insult me by offering only 3.5 million pounds for Charlie then they are barking up the wrong tree and messing with the wrong dog because I will bite them," Holloway said.
"Some of the stuff he does is genius and genius does not come cheap."