SHB Danang finished their title ambition since 1992 on Sunday after beating Nam Dinh though the Vietnamese League has three rounds to go.
Danang from the central region, who were chasing their first V-League crown since that year, beat Nam Dinh 2-1 at their home stadium Chi Lang.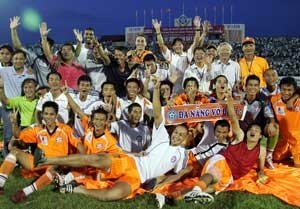 Danang celebrate their V-League title at their home stadium Chi Lang August 2 (Photo: SGGP)
Danang coach Le Huynh Duc said, "I would like to sincerely thank my players and assistants. This title is an award for all of us who have continually made great efforts during the season."
"However, we still have the final in the National Cup to play."
Danang captain Le Quang Cuong said, "Seventeen years ago, the players of the older generation brought a trophy to Danang. We made it again today, and all of us, as well as the city's fans, are full of happiness now."
A draw on Sunday was enough for Danang to hold up the trophy at their stadium but they defeated Nam Dinh 2-1. The first goal came from Merlo in the 27th minute and the fans started cheering waves. Twenty-five minutes after the break, Molina enlarged the gap with a free kick over the Nam Dinh wall. The guests scored a consolation goal in the injury time.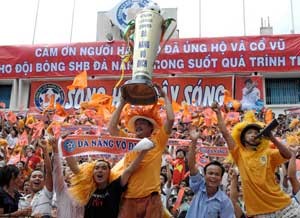 Danang fans create a frenzy on the stands of Chi Lang Stadium August 2 (Photo: SGGP)
Meanwhile, Hoang Anh Gia Lai, the champions of the 2003-05 period, continued their disappointing run when they drew 1-1 with visiting The Cong in Pleiku City. Hoang Anh Gia Lai ranked 10th in the 14-club league with 28 points, the same points as Nam Dinh.
Ho Chi Minh City Club kept their hopes of avoiding relegation alive after beating visiting Dong Tam Long An 2-0. HCMC now have 26 points, seven points ahead of bottom-placed Thanh Hoa, who will certainly be relegated.