LONDON, Jan 6, 2011 (AFP) - Roberto Mancini made no apologies for Manchester City's negative tactics as they ground out a dour 0-0 draw at title rivals Arsenal.
Mancini's team opted for a safety-first approach to hold onto second place behind Manchester United, two points ahead of the third-placed Gunners.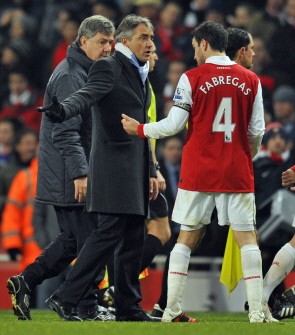 Roberto Mancini (2nd L) speaks with Arsenal's Spanish midfielder Cesc Fabregas (R) after the match between Arsenal and Manchester City on January 5, 2011. AFP
The Italian believes his side are in a good position heading into the second half of the title race and he said: "I prefer to go home with one point because when you come here, it could be that Arsenal will play better than you and you must defend. This is football.
"Not all teams can play like Arsenal. I think Arsenal also have won some games they don't deserve to win. In the first half they had the chances to score.
"It's not my business. I think they are a good team. It's the same when you play against Barcelona, you must defend well if you don't want to lose the game.
"I think if we had David Silva and Mario Balotelli and all the players were 100 percent it would be another game.
"We are in a good position, like Arsenal and like United. I think the season is very long. Also Chelsea and Tottenham have lost tonight but both can finish near the top."
Both Mancini and Arsenal boss Arsene Wenger were united in their condemnation of referee Mike Jones's decision to send off Bacary Sagna and Pablo Zabaleta.
Mancini said: "I don't agree with the sending off because two yellow cards is enough. At that moment at the end of the game the players are tiring and the referee should understand this. I asked the referee why and he said for him it was a red card."
And Wenger added: "The frustrating thing of the night was the sending off. That showed they were happy with the 0-0 when the goalkeeper takes the free kick from the other side. When they were down they were slow to get up."
Wenger refused to be downhearted at his side's failure to score despite dominating the game and he claimed the performance only reinforced his view that the Gunners are potential champions.
"I think we had the performances and not the result. But I take a lot of encouragement from the game even if mathematically we are frustrated and the players are disappointed in the dressing room," Wenger said.
"There is no way we should lose courage or belief in our team, it's the opposite.
"We should come out with more belief in our quality and because we have shown that we have what it takes to be a serious contender in this league.
"The regrets I have is we didn't take our early chances because that would have changed the game.
"They came here to have a 0-0 and in they end they got what they wanted but if we had scored the first goal it would have changed the course of the game.
"We faced long periods in the game when we played against ten men, even Tevez, I have never seen him so deep.
"And when we lost some freshness and sharpness in our movement we lost our threat. You have to play with sharpness against a team who defends like that.
"I would more like to take the positives out of the game because I believe my team gets stronger and stronger.
"We try to win our games always. It was their away to defend deep and try and get us on the break.
"They were organised and we have to respect that. We have to find a way score."