MADRID, April 6, 2011 (AFP) - Tottenham Hotspur coach Harry Redknapp admitted the early sending off of Peter Crouch had given his side an impossible task against nine-time European champions Real Madrid after losing 4-0 at the Santiago Bernabeu in the first leg of the Champions League quarter-final on Tuesday.
Redknapp watched on as Crouch received bookings for reckless challenges on Sergio Ramos and Marcelo to receive his marching orders in the 15th minute and Real capitalised with three further goals to add to their fourth minute opener from Emmanuel Adebayor.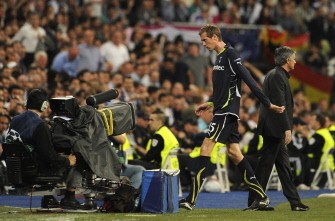 AFP - Crouch (L) leaves the field after receiving a red card from the referee
"I haven't spoken to (Peter) Crouch to be honest," said Redknapp. "I was disappointed. The last thing we needed to go down to ten men early in the game and that is what happened.
"I haven't seen a replay of the tackle. He already had a yellow card and he shouldn't take the chance of getting a red card so as I said I am disappointed."
Tottenham held on until the interval trailing just 1-0 but fell apart in the second half with Adebayor scoring his second before Angel di Maria and Cristiano Ronaldo netted late on.
"In the first half we did fantastic with ten men. However, we ran out of steam and it was one of those nights. Better teams than us would have struggled against a side such as Real with ten men.
"Jose (Mourinho) said it was impossible to play with ten men for so long. To play for that long against a good team is impossible for us."
Redknapp also bemoaned the disruption to his starting line-up with Aaron Lennon pulling out at the last minute, claiming he didn't feel he had the energy to play and Jermaine Jenas took his place.
"It was difficult to lose (Aaron) Lennon just before kick-off," said Redknapp. "He didn't feel well so we had to change that which was difficult.
"He felt rough, had a warm up and said he didn't feel he was okay to play. It was late. He felt didn't have any energy or strength after the warm-up and said he might only last five minutes. It wasn't worth risking him."
Tottenham, who last reached a European Cup final back in 1962, are strong at home and Redknapp said his side would give their all in the return leg at White Hart Lane on April 13.
"It is going to be difficult to turn around. Trailing 4-0 to Real Madrid is very difficult and we have a mountain to climb no doubt about that."
Madrid coach Jose Mourinho offered some sympathy to Redknapp and admitted the sending-off had been decisive, but said that he knew from his time in England with Chelsea that Tottenham would not lie down in the second leg.
"Of course I have some sympathy for Harry (Redknapp) and I hope no one criticises Tottenham because 11 against 10 at this level is mission impossible," said Mourinho.
"I know the mentality of the English players and their fans. Everything is possible. Manchester United came from two goals down to win 4-2 against West Ham the other day so it is possible.
"White Hart Lane is not an easy place to play and they will fight for sure. We have to show Tottenham respect and leave London with a positive result."
While Tottenham are left licking their wounds, Real fans are dreaming of a 10th European crown, and first since 2002, with the enticing prospect of facing arch rivals Barcelona in the semi-final should they overcome Shakhtar Donetsk.