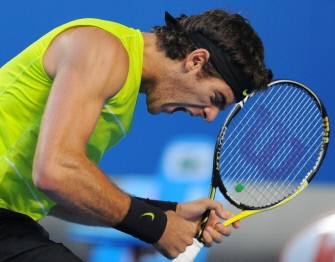 Del Potro during his men's singles fourth round match against Croatian opponent Marin Cilic at the Australian Open tennis tournament in Melbourne on January 24, 2010 (AFP photo)
MELBOURNE, Jan 24, 2010 (AFP) - US Open champion Juan Martin del Potro was dumped out of the Australian Open after losing a titanic five-setter to Croatian 14th seed Marin Cilic in the fourth round on Sunday.
The Argentine fourth seed battled for four hours 38 minutes before going down 5-7, 6-4, 7-5, 5-7, 6-3 on Hisense Arena.
Cilic will play in his first Australian quarter-final on Tuesday against either American seventh seed Andy Roddick or former finalist Fernando Gonzalez of Chile.
It was sweet revenge for Cilic, who lost to Del Potro at the same stage in last year's Australian Open and in the quarter-finals at the 2009 US Open.
The victory stretched Cilic's winning streak to 9-0 this season after successfully defending his title at Chennai on the way to Australia.
Del Potro was bidding to match his best result at the Australian Open when he reached the quarter-finals last year before going down in straight set to Roger Federer.
Cilic broke Del Potro's service four times in the marathon match, in the 10th game of the second set, the 10th and 12th games in the third set and in the fourth game of the final set.
The Croat hit 67 winners and made 71 unforced errors as the match ebbed and flow and edged out Del Potro with 20 aces to 19.
It ended a draining tournament for the Argentine, who broke through for his maiden Grand Slam title after beating Federer at last year's US Open.
He spent almost 15 hours on court and played a total of 18 sets in his four matches at the year's opening Grand Slam.