The national football tournament 2006 for disadvantaged children kicked off in Ho Chi Minh City on May 31, one day before the International Children's Day. Eight teams are competing at Military Zone 7 Indoor Stadium in Phu Nhuan District until June 4.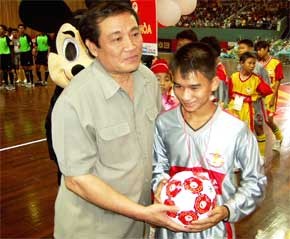 VFF President Nguyen Trong Hy presents the ball to a teen player to kick off the tournament. (Photo: Tuong Thuy)
In the opening ceremony, the stands of the indoor stadium was crowded with children, sitting side by side representatives of the Viet Nam Football Federation, organizers, sponsors. Viet Nam Television broadcast the ceremony live on VTV3 Channel, and will also do this for the final match on June 4.

Viet Nam Football Federation President Nguyen Trong Hy wished the teen footballers success in the tournament. Phan Van Tai Em, captain of the Vietnamese men's team and the 2005 Golden Ball footballer in a selection held by the Sai Gon Giai Phong newspaper, signed his name on the balls and gave them to the eight competing teams.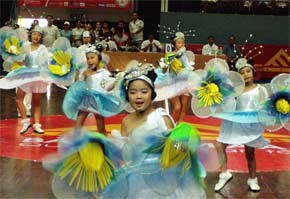 Dancing children add colors to the opening ceremony (Photo: Tuong Thuy)
The participating teams were divided into two groups. In Group A are defending champions Gia Lai, Khanh Hoa, Dong Thap and Dong Nai; while Group B has Ha Noi, Ho Chi Minh City, Long An and Kon Tum. In the openers, Dong Thap beat Khanh Hoa 5-2 and Ho Chi Minh City defeated Long An 4-0.
The tournament organizers are the Ho Chi Minh City Police newspaper, and The Thao Viet Nam (Viet Nam Sports) newspaper. The tournament is called AAA Cup, named after the main sponsor –Vietnamese insurance company AAA.