This year's national football tournament for underprivileged children started Tuesday in Ho Chi Minh City. The hosts, also the defending champions, lost to first-time competitors Ca Mau 2-4 in an opener.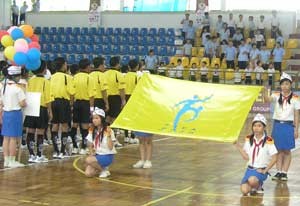 The opening ceremony for the disadvantaged children's football tournament is held today (Photo: T.Thuy)
Newcomers Ca Mau from the Mekong Delta created an unexpected result with their first win in Group A. In the other match of the group, Dong Nai beat Nghe An 5-2.
The four teams in Group B are Gia Lai, Khanh Hoa, Ha Noi and Dong Thap.
The tournament is staged at the District 11 Sports Center until June 1, the International Children's Day, with the participation of these eight teams.

The final match is set for May 31, and then a Viet Nam team will be selected from the participating footballers to play a friendly with a child team from Thailand. The winners of the friendly game will get a bonus of US$1,000 and the other team US$500.
The tournament is called Hoa Sen Plastic Cup as the main sponsor is Hoa Sen Group. The organizers are Ho Chi Minh City Police newspaper, and The Thao Viet Nam (Viet Nam Sports) newspaper.