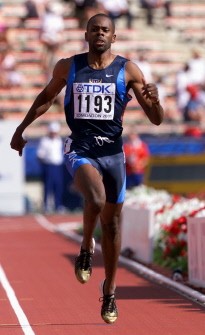 (AFP FILES) Photo dated August 4, 2001 shows US sprinter Antonio Pettigrew during the men's 400m at the 8th Athletics World Championships at the Commonwealth Stadium in Edmonton.
CHAPEL HILL, North Carolina, Aug 10, 2010 (AFP) - Antonio Pettigrew, who was stripped of a 2000 Olympic 4x400m relay gold medal for doping, has died at the age of 42, and authorities said his death could have been accident or suicide.
Pettigrew was found dead in the back seat of his car, Chatham County Sheriff's Major Gary Blankenship said Tuesday.
Blankenship said the car was locked and there was evidence that Pettigrew had taken sleeping pills, and there was no sign of foul play.
"Obviously we don't know if it was intentionally or accidental at this point," Blankenship said of the cause of death. "We might not ever know."
Blankenship said two friends discovered Pettigrew's car. They had retraced his route between his home and the University of North Carolina, where he was an assistant athletics coach.
"He appeared to be sleeping, but he was unresponsive to them," Blankenship said.
Authorities responding to their call shortly after 3 am entered the car and pronounced Pettigrew dead at the scene.
Blankenship said investigators will probably speak with Pettigrew's family and friends to get an idea of his recent frame of mind.
Toxicology reports were expected to take at least four weeks.
Pettigrew's wife had reported him missing from their home on Monday.
Pettigrew, who won the 1991 400 metres world title in Tokyo, was a member of the 4x400 metres American relay team that won the gold medal at the 2000 Sydney Olympics.
But the International Olympic Committee (IOC) stripped Pettigrew and his teammates - including legend Michael Johnson - of their medals after he admitted, during a trial against former coach Trevor Graham, to doping.
University of North Carolina athletics director Dick Baddour said the university was "deeply saddened" to learn of Pettigrew's death.
"I was particularly impressed with the relationships he established with our student-athletes and the pride he took in representing the University of North Carolina," Baddour said.
Pettigrew is survived by his wife, Cassandra, and a son, Antonio Pettigrew jnr.
Pettigrew had never tested positive in a career in which his 1991 world 400 metres title was followed by World Championships relay gold in 1997 and 1999 before his triumph with the US squad in Sydney.
But he revealed his drug use when called to testify in Graham's trial on perjury charges in 2008, after the athlete was implicated by prosecution witness, Angel Heredia.
Heredia, a self-described steroids dealer from Mexico, alleged Pettigrew and others received banned performance-enhancing drugs from him through Graham.
Pettigrew acknowledged using the prohibited substance erythropoietin, known as "EPO," and human growth hormone ("HGH"), from 1997 to 2003. He accepted a two-year ban.
His admission also cost him his relay gold medals from the 1997 and 1999 World Championships.