MELBOURNE (AFP) – Novak Djokovic signalled a possible new order after ending Roger Federer's title defence at the Australian Open in a titanic semi-final on Thursday.
The resurgent Serbian third seed wore down the 16-time Grand Slam champion 7-6 (7/3), 7-5, 6-4 in three hours to repeat his semi-final win over the Swiss great when he went on win his lone major title at the 2008 Australian Open.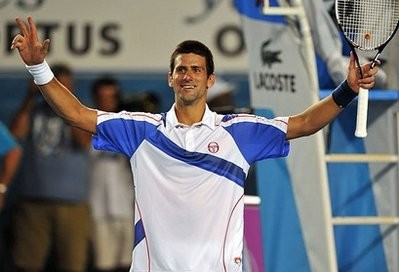 Novak Djokovic celebrates his win over Roger Federer. AFP
Djokovic will now play the winner of Friday's semi-final between British fifth seed Andy Murray and Spain's seventh seed David Ferrer in Sunday's title match.
Significantly, it will be the first Grand Slam for three years without Rafael Nadal or Federer.
With world number one Nadal out of the tournament amid fresh doubts over his fitness, and now Federer vanquished, Djokovic's triumph may have signalled a changing of the guard at the top of men's tennis.
"It was really hard to challenge them, especially in the big events where they play their best tennis," Djokovic said. "Now these things are changing a little bit, so from that perspective it's good for the sport."
"(But) Roger is still very much motivated to reclaim the first spot in the rankings and Nadal has been a very dominant player. We are still behind them," he added.
"There are more players who are able to win majors, which is good."
Djokovic said his performance to dethrone Federer was one of his best.
"He puts a lot of pressure on you, so I tried to stay to the last moment and really it was one of the best matches I've played in a while," Djokovic said.
"I am just happy to overcome the tough moments to play my best tennis."
It was Djokovic's third win over Federer in a Grand Slam semi-final, and he now leads the Swiss great 3-2 in their encounters at the majors.
The world number three repeated his classic straight-sets win over Federer in the semi-finals in Melbourne three years ago, when he went on to beat Frenchman Jo-Wilfried Tsonga in the final for his maiden Grand Slam title.
He also defeated Federer in the semi-finals of last year's US Open after saving two match points. Federer still leads 13-7 in their overall meetings.
Four-time champion Federer was playing in his eighth straight Australian semi-final and his 27th Slam semi-final.
Djokovic continued his terrific form at the tournament and has dropped just one set leading into Sunday's final.
He opened shakily with two double-faults before holding, as Federer looked looked stronger on serve as the first set went into a tiebreaker.
But Federer played a poor tiebreak with a couple of backhand misses, and Djokovic took the set on the first of his four set points in 57 minutes.
The Serb was fired up by his early advantage and broke Federer in the third game of the second set when a Federer backhand was long.
That stung the world number two and he claimed a double service break to go up 5-2, but Djokovic hit back winning the next five games to go two sets ahead after Federer began missing his forehand.
Djokovic fought for 13 minutes and five deuces to cling to his service at the start of the third set, as Federer desperately looked for a way back into the contest.
Federer became more flustered under the continual assault from Djokovic and was broken in the third game to give the third seed control of the decisive set, as he wore down the Swiss champion.
Fighting Federer broke back to 4-4, but the Swiss again gave up serve with more volley errors to leave Djokovic to serve out for the match on his third match point.