Li Jinyu scored twice to give China's Shangdong Luneng a narrow victory at Long An Stadium in their Group G second-leg of the AFC Champions League 2007 with Viet Nam's Dong Tam Long An on Wednesday.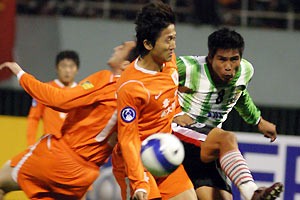 Viet Thang (R) was the Vietnamese side's star performer on the day
The Vietnamese fans were in full cry as the host side surprisingly took the lead in the 14th minute when Viet Thang danced past the defenders and sent a perfect pass to striker Tshamala, who lobed the ball beyond the reach of goalkeeper Lei Lei.
Shangdong Luneng scored the equalizer after 28 minutes when Wang Youngpo took a free kick and fired the ball into the top corner past the stationary goalkeeper Santos.
But it was 2-1 for the host side eight minutes later, and again it was Viet Thang who showed lightning pace from the center field to leave the visitors' defense behind before sending a superb low shot over a diving Lei Lei from the edge of the box.
Dong Tam Long An only had ten men on the field from the 41st minute thanks to Hoang Thuong being sent off for a second booking after pulling a Shangdong Luneng striker inside the penalty area.
Misfortune struck again when Serbian midfielder Aleksandar Zivkovic wasted a glorious chance to level by shooting his penalty ball at the post for a goal kick.
The Chinese side got the score back to 2 - 2 when the second half was four minutes old. Li Jinyu outjumped Dong Tam Long An's defense to head Zivkovic's long cross from the left into the net.
Tshamala almost put the host side in front in the 72nd minute when he shot wide from close range.
Vietnamese striker Van Khai, who replaced Viet Thang in the second half, created a chance for the visitors when he lost the ball in center field and Li Jinyu completed a subsequent counter attack with a powerful shot into the net in the dying moments of the game.
This goal ended Dong Tam Long An's hopes of gaining its first points in the AFC Champions League.
"Both sides played a good game. Despite losing six players for the match, my team produced a good display against a stronger opponent. However, the mistake by Van Khai cost us dearly," lamented Dong Tam Long An coach Enrique Calisto at the post-match press conference.
Shandong Luneng's assistant coach, Ma Baogang, seemed happy enough with his team's showing. "My boys couldn't put in a ten-out-of-ten performance because of the hot weather and the bad surface. Dong Tam Long An produced a better display today than when we last met and troubled us a lot. We were lucky to win," he told reporters.