BERLIN, April 3, 2011 (AFP) - Borussia Dortmund goal-scorer Kevin Grosskreutz insists his side have earned their first German league title since 2002 after their 4-1 victory over Hanover kept the leaders seven-points clear.
"Now we have earned the right to bring the (Bundesliga) shield home, anyone who doesn't believe that is crazy," said Grosskreutz as Dortmund came from behind to beat fourth-placed Hanover.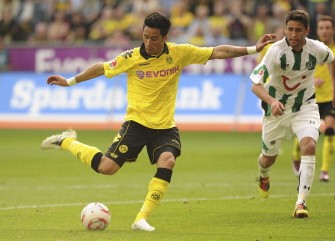 Dortmund's Argentinian striker Lucas Barrios (L) and Hanover's Tunisian defender Karim Haggui vie for the ball during the match. AFP
But coach Jurgen Klopp is working hard to keep his team's feet on the ground with six games left this season.
This was Dortmund's first win in three league matches having been beaten by Hoffenheim and held by Mainz in their last two league games, but Saturday's win at their sold-out Signal Iduna Park stadium boosted flagging confidence.
Goals by Germany's rising stars Mario Goetze, Grosskreutz, plus two from Paraguay's Lucas Barrios sealed the win -- but Klopp said it was too early to start celebrating.
"Such praise is too early," said Klopp.
"I'm normally a very optimistic person, but I can't ignore our next six opponents.
"We're in the decisive phase of the season, but we have to try to stay focused on us and not what people say about us.
"It will be tough next Saturday against a team like Hamburg," admitted Klopp after Hamburg were held to a goalless draw at Hoffenheim on Saturday.
Dortmund also face Freiburg on April 17, bottom side Moechengladbach on April 23, Nuremberg on April 30, Werder Bremen on May 7 and finally host Eintracht Frankfurt when the season finishes on May 14.
Second-placed Leverkusen stayed in the title race with a 1-0 win at Kaiserslautern on Saturday while defending champions Bayern Munich are up to third after their 1-0 win over bottom side Moenchengladbach.
Dutch winger Arjen Robben sealed the win with a second-half strike at Munich's Allianz Arena, but Bayern face a season without silverware.
They remain 14 points behind Dortmund in the league having been dumped out of both the Champions League and German Cup.
But for coach Louis van Gaal, who leaves Bayern next month, it is important to reach third -- and a chance to enter the play-offs for a Champions League place next season.
Bayern need to pass Leverkusen and claim second if they want an automatic Champions League next season, but are still seven points off the pace.
"We fought for every inch of ground. And I'm obviously happy with the result and going third," said Van Gaal, whose side play Leverkusen at home in a fortnight.
"It wasn't our best-ever performance, although that had a lot to do with Borussia Moenchengladbach's excellent organisation.
"Winning was very important.
"I'm happy because we prevented them creating many chances, but we didn't make many of our own either.
"I'm pleased with the second half, we were committed and passionate."