JOHANNESBURG, July 12, 2010 (AFP) - Arjen Robben and Nigel de Jong led a Dutch onslaught on English referee Howard Webb after Holland succumbed to Andres Iniesta's injury-time winner in the World Cup final.
Spain lifted their first World Cup after a match in which Holland had John Heitinga dismissed in extra-time for a second booking and seven others yellow carded.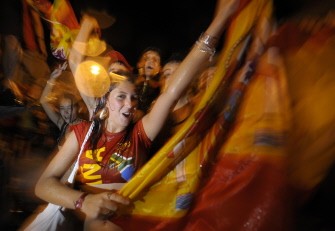 Dutch fans react in Amsterdam after the Netherlands football team lost the final match. AFP
Robben was incensed that Carles Puyol escaped punishment when he seemed to impede the Dutch winger as he raced in on Iker Casillas's goal seven minutes from the end of regulation time.
Puyol appeared to use his arm to hinder Robben's flow and Casillas came out to block the striker, who had gamely tried to remain on his feet.
"As a player, you always try to keep going, but for them to score a goal (four) minutes before the end was tough. It made things very difficult for us," said the Bayern Munich star.
"We kept trying to get something out of the game, but the dressing room was a pretty depressing place.
"We sat there in the dressing room and only talked about some of the refereeing decisions.
"There were a few things which were hard to take, but there is no point talking about them now."
Puyol had already been booked at that point and had Webb adjudged him to have fouled Robben, then a second yellow would have been brandished, given he was the last man and Robben was through on goal.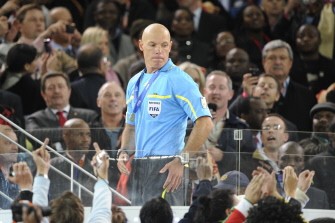 English referee Howard Webb receives his medal at the end of the 2010 World Cup football final. AFP
De Jong, who was shown only a yellow card when he jumped up, studs showing, and caught Spain's Xabi Alonso in the chest, said he felt the major calls went the Spaniards' way.
Just before Spain scored, Holland should have had a corner when a Wesley Sneijder shot was deflected behind.
But a goal-kick was given and Spain went straight up the other end to snatch the winner.
"There were a few curious decisions in the game, but that is football," moaned De Jong. "You have to keep going and keep fighting, but it was hard. Webb made some curious decisions, especially the last bit from Spain, it was a corner for us, as Spain had deflected the ball, but we didn't get the decision.
"It is always easy to blame the referee, but we didn't control the game.
"These are important decisions which didn't go our way, but that is just the way it goes."
De Jong acknowledged that Webb had a tough job.
"Nowadays the pressure is so great for the referees, they are told what to do by FIFA," he added.
"It is a final, so everyone did everything they could to win no matter what, it was the same for both sides, we had some fouls, so did they. This is your once in a lifetime opportunity.
"Football is football, maybe I am a little old school, but I remember the games back in the days when there were worse fouls which never even got booked."
Dutch coach Bert van Marwijk echoed his players' criticism of Webb and said he felt the Englishman's handling of the match may have been influenced by criticism he received in Spain following their group-stage defeat by Switzerland, which he was also in charge of.
"I don't think the referee controlled the match at all well," van Marwijk said. "But I read a lot of things today were being said in Spain about the first match against Switzerland.
"For our part, when you look at the behaviour of the referee you would almost think this Spain-Switzerland match had an influence on this."
Sunday's match was the second time an Englishman had taken charge of a World Cup final involving Holland and the Dutch grievances had an echo of what happened when they lost 2-1 to West Germany in 1974.
Jack Taylor was the referee in that match and, while he gave the Dutch a penalty right at the start, he was also seen as having awarded the Germans a debatable soft-kick which allowed them to equalise and go on to win the match.