The 9th Saigon Cyclo Challenge March 7 found new champions, as Duxton Hotel took the title in unseasonal rains. The weather did not dampen their spirits or that of the other 50 teams from various businesses, schools, consulates and organizations in Ho Chi Minh City.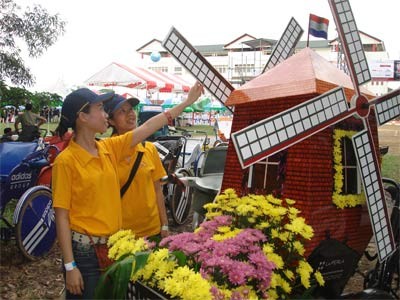 Volunteers from BBGV take a look at the La Perla's cyclo (Photo: Truong Son)
Twenty cyclos, an iconic image of Vietnam, were specially adapted and brightly decorated with each team's corporate logos that came in a myriad of shapes and colors.  
They all came together at the Taipei School, Phu My Hung New Town, for the highlight of the city's social calendar.
No matter the heavy rain, more people than ever were willing to brave the wet for the charity event.  
Duxton Hotel came first, with teams from the Caravelle Hotel and HSBC Bank finishing runner-up and third, respectively.  
The best decorated cyclo went to FV Hospital, which also pocketed the best cheerleader award.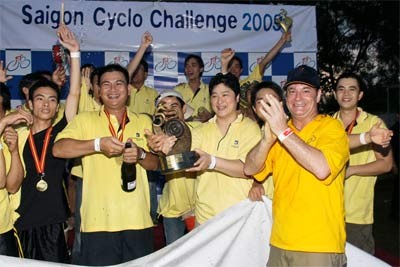 The Duxton Hotel team opens a bottle of champagne to celebrate their victory (Photo: Courtesy of Saigon Children's Charity)
The award for the best banner went to Schenker. 
The day brought much more than the race. It was a chance to build spirit and develop stronger bonds among the teams and their supporters with games and exhilarating rhythms from the bands.
A tired but happy Director of Saigon Children's Charity, Paul Finnis, said, "We are very lucky to have so many wonderful committed supporters here in Vietnam and around the world. It has been a great opportunity for all of us to put away our personal worries for a day and think, instead, about the plight of others. I cannot thank everyone enough for all they have done today."   
Sharing similar thoughts, Le Bich Tran, the office manager for British Business Group Vietnam (BBVG), said, "I had a lot of joy today and I really like this work. It makes me think that I'm more helpful since most of the proceeds today will go to the Saigon Children's Charity's fund to support disadvantaged children. The BBGV and I are always willing to support such meaningful activities." 
Supporters sometimes even passed the finishing line to encourage their team (Photo: Truong Son)
The successful race, which ended with congratulations to all who participated, promises even more chances for disadvantaged children to go to school and to help them and their families break out of poverty.  
The Saigon Cyclo Challenge has been organized by the Saigon Children's Charity annually since 2000. All proceeds from the challenges will go directly to projects related to social welfare, such as monthly school scholarships to more than 3,000 children, as well as building schools and classrooms in rural areas.
Related article:

Cyclo Challenge to raise money for children