In the world of pool, the name Efren Bata Reyes has become familiar to pool fans, especially in the Asia.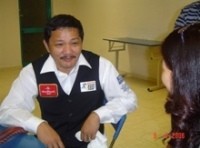 Efren bata Reyes in the interview after booking a place in the semifinal. (Photo - Thai Vy)
Growing up in pool halls in the Phillippines, the young boy Efren Bata Reyes soon came to the world of pool at the age of eight so that in later years he started playing professionally the first time in 1995 at the World Pool Championship in the U.S. He has earned many remarkable titles in his pool careers such as World 9- Ball championship, World 8 Ball Championship, World Pool Master, U.S Pool Open.
Efren Bata Reyes have come to Vietnam to participate in 2003 SEA Games – Vietnam, San Miguel Asian 9 Ball Tour 2004, where he won the Viet Nam leg and is in Ho Chi Minh city to participate in this year's San Miguel Asian 9 Ball Tour. After defeating his native fellow, Francisco Bustamante is in the quarterfinal to book a place in the semifinal of the San Miguel Asian 9 ball Tour 2006. Sai Gon Giai Phong English Online has had an interview with him.
SGGP: Congratulations on your success. How are you feeling now?
Efren Bata Reyes: Thanks, I'm fine.
How did you start playing pool?
I grew up in pool halls. I got used to it and practiced playing it since then. However, I did not think pool would become a sport.
You earned fame for the Philippines. Do the Government give you any special support?
Yes, they do. We have many local pool tournaments, but they give me support for only big tournaments. I find this fine.
How many international tournaments do you participate in yearly?
One or two. One is the World Pool Championship. The other is an international tournament. My sponsors want me to play in local tournaments or smaller ones.
Today, Vietnam has two players in the quarterfinal. What do you think about the fact that you will play against one of them tomorrow in the final match tomorrow?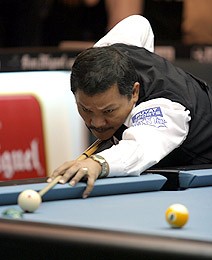 Efren Bata Reyes in a stroke(Photo - Thai Vy)

(Gentle smile) Viet Nam has showed progress in pool. I was defeated by Luong Chi Dung in Bali last time. In pool, if you break the balls successfully, everything is possible. You can win. They can break the balls well. I can do it well. It is hard to say about the future in pool.
Many Vietnamese pool fans say that no matter how many world pool champions come to Vietnam this year to compete at San Miguel Asan 9 Ball Tour, Efren Bata Reyes is the most expected. What do you think about that? And what do you think makes people like you?
(Again a gentle smile) Firstly, thank you so much for expressing Vietnamese pool fans' love to me. I can see the love when I come to Japan, Indonesia, Viet Nam and Thailand. I saw people cry when I lost the game. I think my simple but successful playing together with my sense of humor in my way makes people like me.
Thank you and good luck to you tomorrow.
Related stories:
San Miguel Asian 9 Ball Tour opens