PARIS, March 4, 2010 (AFP) - France's increasingly embattled coach Raymond Domenech turned his fire not for the first time on the French supporters after they regularly cried for him to resign and booed the players during his side's 2-0 defeat by European champions Spain on Wednesday.
The 58-year-old became the first France coach in 42 years to oversee defeat at home to the Spanish, who at times made the 2006 World Cup finalists look second rate in what was hardly an encouraging omen for June's World Cup finals in South Africa.
However, the former hardman defender displayed nothing but contempt for the supporters, who also resorted to chanting 'ole, ole' in tribute to the visitors flowing passing moves that were a class above anything the hosts could put together for a sustained length of time.
"There were even cries of 'Ole Ole' after five minutes," moaned Domenech, whose popularity has nosedived since guiding France to an unexpected place in the 2006 final where they lost in a penalty shootout to Italy.
"I find that is a pity, the players need the public's support, even when we are suffering at the hands of the European champions."
Domenech, who astonished many with his public proposal on French television to his tv sports presenter girlfriend immediately following the first round exit at Euro 2008 rather than answering questions on the humiliating elimination, even took succour in the loss based on similar previous experiences.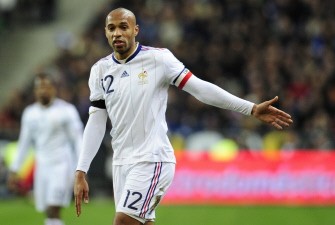 France's attacker Thierry Henry takes part in a friendly international football match against Spain at the stade de France in Paris on March 3, 2010. AFP PHOTO
"At this stage of the year we always lose," said Domenech, who won eight caps for France from 1973-79.
"The France players need support. I have trouble udnerstanding that they don't have this support. But the important thing is to prepare well for the World Cup."
Domenech, though, will not only wake up to more headlines querying his suitability to take France to South Africa in June but also another headache in whether it is time to demote icon Thierry Henry to the bench after a listless display by the team captain.
"Everyone has known 'Titi' (Henry) to have played better," admitted Domenech.
"But the fact that he hasn't been playing regularly at club level for Barcelona has posed him problems in coming straight in and starting such a high quality match.
"However, the goal for preparing for the World Cup finals is to raise everybody onto the same level. Of course Henry's performance does raise several questions. But nothing is worrying me for the moment."
Henry, who was jeered when he was replaced during the second-half, conceded that he had not been at his best as he returned to the Stade de France for the first time since his infamous handball that created the goal which ended the Republic of Ireland's hopes of reaching the World Cup finals last November.
"I was short of my best form, and it was a handicap," said Henry.
"I lacked rhythm, it was clear to see that and in a match against a great team where one has to run after the ball, that is hard."
However, 32-year-old Henry, France's record goalscorer with 51 goals, said that he was confident he would be back at his best level come the finals.
"That (his playing time and form) will not be a handicap for the World Cup, because we will have a huge amount of training camps from now on, but this evening (Wednesday), it was a handicap."
Both Domenech and Henry - whose relationship has been called into question on several occasions with the captain having to deny he has quarrelled with the coach in front of the players - agreed on one thing...that Spain were awesome.
"What did I learn this evening?" mused Domenech. "That Spain is one of the genuine favourites for the World Cup. They were very strong opponents and when they have the ball it is almost impossible to retrieve it."
Henry was even more emphatic in his assessment of the Spaniards.
"The Spanish players were more than just playing well because they were confident. At some points of the match, they were untouchable, on another planet."