LONDON, Sept 13, 2009 (AFP) - Fabio Capello has told his England stars that reaching the World Cup final is the least he expects from them in South Africa next year.
Capello's side booked their place at the 2010 World Cup with a 5-1 demolition of Croatia at Wembley in midweek.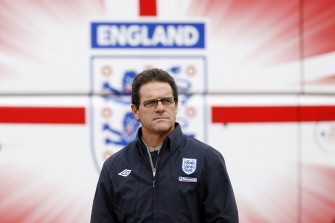 England manager Fabio Capello arrives for a team training session ahead of the forthcoming World Cup 2010 qualifying match against Croatia, on September 8, 2009 (AFP photo)
That victory maintained England's 100 percent record in the qualifying stages and raised the possibility of completing the campaign with a perfect 10 wins from 10 matches.
Such a successful run has boosted Capello's belief that England are ready to make a major impact on the tournament they won for the only time in 1966.
England have often fallen at the quarter-final stage of international competitions in the last 20 years, but Capello is eying a place in the final at Soccer City on July 11.
"Playing in the final would be success," he said. "For now, playing in it will do, rather than winning it. But if people are asking me what my aspiration is, then it is to reach the final.
"I know the expectations will rise. Other people will help that, as well as our results.
"But that is the past now. It is nothing. For me and the players it is gone."
Although Capello is pleased with his side's progress, he has no intention of resting on his laurels just yet.
Praise showered down on the Italian in the aftermath of the Croatia victory, but he has already consigned that result to the history books and wants his players to do the same.
"The players and I will stay with our feet on the floor, always," he said.
"There is a long way to go before we arrive at the finals and we must go step by step. Those eight games mean absolutely nothing now.
"I know all about England's history. But the most important thing when you go to the World Cup is the physical condition of the players. The best players have to be fit."