POLOKWANE, South Africa (AFP) - Algeria are still learning how to compete at the top level of international football and their Group C clash with European heavyweights England next Friday will be another part of that process, said Algerian coach Rabah Saadane.
The 64-year-old - in his fifth spell in charge of the 'Desert Foxes' - admitted his side were very much the underdogs in their group, a fact borne out by their opening 1-0 defeat by Slovenia on Sunday.
"It will be very difficult (to qualify)," said Saadane, whose playing career was ended aged just 27 by a car crash.
"We are the minnows in the group… we will learn things when we play against England, we will see what we are capable of, what is our level, and this is the lesson for the World Cup for Algeria.
"It is imperative to recuperate from this match and to prepare for an even more difficult match against the best team in the group.
"I think that, save injuries and tiredness, we will start with the same team, but the tactics will probably change."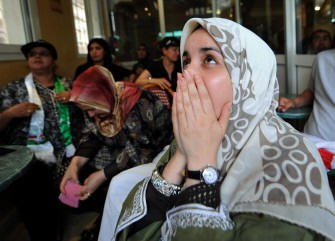 An Algerian woman reacts after the eviction of Algerian player Aldenkader Ghezzal as they watch the Algeria vs Slovenia FIFA World Cup South Africa 2010 football match, on the television, on June 13, 2010, in the cafe bar in Tunis.
Saadane was disappointed his side had failed to get even a point from a game they would have expected at the very least to draw - though they were not helped by the red card for substitute striker Abdelkader Ghezzal 18 minutes from time - but was pleased with the overall display in Algeria's first match at the finals since 1986.
"We did not deserve this result, but that is football," he said resignedly.
"I congratulate my team, I am very happy with the behaviour of the players in this match.
"We were well-organised, we knew how to retain the ball, and especially good in the first half and for most of the second period, though fatigue did start to set in.
"I have said on several occasions and I repeat that it is a body of work that needs time.
"We are, as it were, in an apprenticeship."
Saadane, who also coached the Algerians at the 1986 finals, said he did not hold either Ghezzal or goalkeeper Faouzi Chaouchi - who mistimed his dive and saw the ball bobble over him for the goal - responsible for the defeat.
"As regards Ghezzal and Chaouchi, it is part of their growing-up process, and that goes back to what I was saying about an apprenticeship.
"Football is built on errors, we saw that of England goalkeeper Robert Green on Saturday (his mistake handed the United States their equaliser in the 1-1 draw), and I will not blame these two players.
"Ghezzal did not come on as psychologically prepared as he should have done.
"As for Chaouchi, he remains our best goalkeeper, and he will continue to play as number one, the only way he won't is if he asks to be dropped.
"The ball, and this semi-artificial turf, are difficult for the goalkeepers… Our players must learn to get over such disappointments, and to handle these great sporting occasions."