Floyd Bennit, an executive of Melcosa Vietnam Ltd., and his German fellow countrymen are practicing soccer these days to prepare for the third Euro Soccer Cup in Ho Chi Minh City, scheduled for next Saturday, May 27, at the RMIT University Campus in District 7.
The European Chamber of Commerce in Viet Nam (Eurocham) has organized this annual six-people tournament to bring fun to the European community and help players keep fit. The eight teams this year are England, France, Germany, Netherlands, Scandinavia, Spain, Switzerland and an invited team.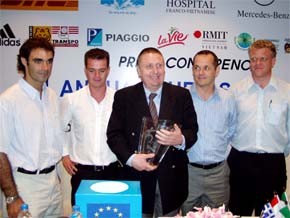 German Consul General Peter Seidel (in black suit) holds the trophy and poses for pictures with the teams' representatives at the drawing ceremony (Photo: Tuong Thuy)
Mr. Peter Seidel, German Consul General in Ho Chi Minh City, conducted the drawing on May 19 to divide the eight teams into two groups. England, France, Germany and the invited team fall into Group A; Group B has Netherlands, Scandinavia, Spain and Switzerland. Eurocham will announce who play for the invited team on May 22. At the drawing ceremony, the teams' representatives said they all want to win this tournament to take the trophy from the 2005 champions, Scandinavia.
The tournament will take place in only one day, kicking off at 10:30 am and the final will finish just before sunset. The top two teams of each group will enter the semifinals, and the winners will play the final. 
The soccer field at the RMIT Campus is 50 meters long and 30 meters wide. The goal is two meters high and four meters wide. The penalty area will be marked as a seven-meter semi-circle and fouls or handball inside will be considered as a penalty.
Of the 10 registered players, only six can play the game. A maximum of three 'professional' players on the pitch at the same time is allowed. 'Professionals' are players who play soccer regularly. They will be marked visibly for the referee to see and control. Unlimited substitution is permitted and without prior approval of the referees. There is no offside at all.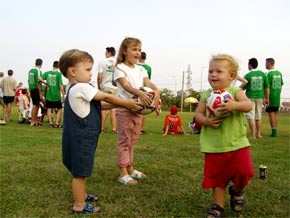 European kids play during the 2005 Euro Soccer Cup in Ho Chi Minh City (Photo: Tuong Thuy)
Organizer Eurocham believes the tournament day will be a great fun day for the European community's soccer lovers and their families. The Sofitel Plaza Saigon Hotel will serve lunch and dinner on the site after the competition. The entrance ticket for an adult is US$18, for a kid is US$7, while children under six are free. Tickets are available in Ho Chi Minh City at HSBC Office, 235 Dong Khoi Street, Dist. 1; Euro Villa, 257 Hoang Van Thu Street, Tan Binh Dist.; and RMIT Campus in District 7.