LONDON, April 17, 2011 (AFP) - Manchester City manager Roberto Mancini believes victory in the FA Cup can be a launchpad for success in the Premier League after his side ended Manchester United's treble dream on Saturday.
But while Mancini believes victory in the FA Cup could be a turning point for City, the Italian warned that the club still had to win a final against Bolton or Stoke if they are to end a 35-year trophy drought.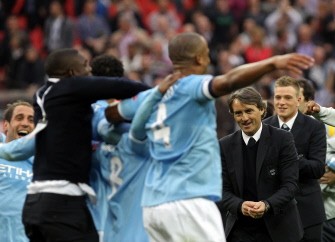 AFP - Manchester City's Manager Roberto Mancini (2nd R) goes to celebrate with his players after the final whistle in the FA Cup semi-final
"For us it's important to win the first trophies. If we can win the FA Cup, probably next year we can play for the title," Mancini said.
"Yes, first we have to play another game. And probably the final will be harder than this."
City clinched victory on 52 minutes after Yaya Toure pounced on a sloppy mistake by Michael Carrick to score the decisive goal.
Victory was no less than City deserved after an inspired second-half display that came after United striker missed two golden chances early on.
Mancini said he believed his team had suffered from stage fright in the opening exchanges as United got on top against their success-starved rivals, playing at Wembley for the first time since 1999.
"Maybe we suffered in the first 20-25 minutes," Mancini said. "But in the last 10 minutes of the first half we started to play high, we started to press. "And in the second half we dominated the game. United played very well in the first 25 minutes but after that I felt we deserved to win."
Mancini revealed that City's players had vented their frustration at half-time after a patchy opening 45 minutes.
"All the players were emotional at half-time because we knew we could play better and we knew we could win if we played better," Mancini revealed.
The prospect of City returning to the FA Cup final 30 years after their last appearance -- in the 1981 'Ricky Villa final' against Tottenham -- will buy Mancini valuable breathing space as he aims to secure his future at Eastlands.
However, the City manager denied that Saturday's win eased the pressure on his position.
"I don't get pressure. I started this career 11 years ago. I know this job is difficult. If you win you are the best, if you lose you are the worst manager," he said.
"But I like football. For me today was important, but I want to win this trophy for this club, the supporters, for everybody who works at Manchester City. For these people."
Mancini also insisted he was not giving priority to City's bid to assure themselves of Champions League football.
Currently the club are in fourth spot in the league with Spurs just three points behind in fifth.
Asked which he would prefer -- the FA Cup or Champions League qualification -- Mancini replied: "We want both.
"I think we deserve to play Champions League. We have spent one year between first and fourth spot. Everything is in our hands. But if we have the same spirit we had today, we will get fourth spot.
Meanwhile, Mancini brushed off suggestions that temperamental striker Mario Balotelli was to blame for the ugly melee that marred the final whistle, when United defender Rio Ferdinand had to be restrained from confronting the City striker.
"I didn't see it. But I want to wait because every time it is Balotelli's fault. Every time," Mancini said.
Balotelli was believed to have celebrated at the final whistle by clenching his shirt in front of United's fans, incensing the Red Devils players.
But Mancini was unimpressed.
"Maybe we can put him in jail? Next week. For this," Mancini said.