POTCHEFSTROOM, South Africa, July 4, 2010 (AFP) - Spanish stars Cesc Fabregas and Carles Puyol will be fit to play Germany in the World Cup semi-final in Durban on Wednesday, the team doctor said.
Barcelona veteran defender Puyol had to go off in the 84th minute of the 1-0 victory over Paraguay in the quarter-final on Saturday suffering from blurred vision after being hit in the face with the ball while Fabregas fell heavily on a shoulder after being brought down by the Paraguayan goalkeeper.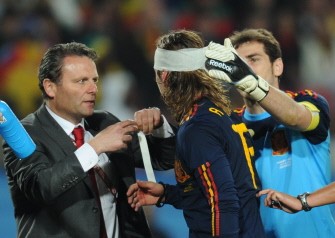 Carles Puyol gets a medical assistance during the quarter final Paraguay vs Spain on July 3, 2010. AFP
"Both players will be fit for the semi-final," Doctor Oscar Luis Celada told AFP.
Puyol should be able therefore to line-up in the usual Spanish starting XI while Fabregas will be on the substitutes bench - though Raul Albiol will not be able to as he has a right leg injury.
The Spain v Germany clash is a rematch of the Euro 2008 final which the Spanish won 1-0 to collect their first major trophy.