LONDON, Nov 29, 2010 (AFP) - Roger Federer believes his ATP World Tour Finals triumph against Rafael Nadal will provide him with the perfect springboard to return to the top in 2011.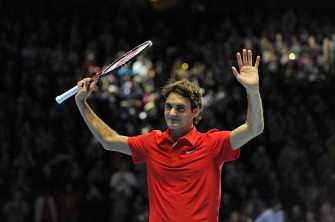 Roger Federer waves to the crowd after beating Spain's Rafael Nadal (not pictured) on the last day of the ATP World Tour Finals, at the O2, in south-east London on November 28, 2010. AFP
Although Federer is publicly adamant he has nothing to be disappointed about over the last 12 months, privately he will feel a nagging sense of regret at the loss of the world number one ranking to Nadal, who also took the French Open and Wimbledon titles from the Swiss star.
That was what made the 6-3, 3-6, 6-1 victory over Nadal in the final at London's O2 Arena on Sunday so significant for the world number two.
In Federer's mind, his record-equalling fifth title in the prestigious end-of-year event was secondary to the message the win sent to Nadal and his other rivals at the top of the rankings.
"I'm happy I made my ninth final this season. I've won five titles, won a slam. That obviously makes me be very positive for next year. I believe I can have another great season in 2011," he said.
"I'm just really happy the way I was able to finish the season in style, playing some of my best tennis, really saving the best for last.
"Obviously, beating Rafa in the finals makes it extra special because of the year he had.
"I've had a good season. I don't see how someone can say it's been a bad season. I had some tough losses, sure but you're not going to win every tournament you play.
"After having somewhat of a disappointing clay, Halle, Wimbledon stretch, where I wasn't able to win any tournaments, maybe didn't play some of my best tennis, played a bit passive, it was important that I was able to pick up my game."
The 29-year-old will take a short vacation now before starting his preparations for the new campaign, which he begins by defending the Australian Open in January.
But the 16-time Grand Slam champion is well aware that Nadal would love to repeat his remarkable year, which included successive Grand Slam triumphs at the French Open, Wimbledon and the US Open.
Nadal leads their career head-to-head 14-8 and Federer admits every match between them seems to carry an historic edge.
"I think the men's game is at an absolute high right now, with a lot of exciting games being played, with a lot of respect. Also I think having had me and Rafa both made the career Grand Slam already at a young age I think is great for the game," he said.
"We're obviously playing not only for ourselves and beating the other guys, but also for history. I think there's a lot at stake always in all our matches we play in the future. I think it's wonderful."
Nadal was happy to credit Federer for his impressive display but he hinted tiredness after his epic three-set win over Andy Murray in the semi-finals on Saturday had taken its' toll on him.
"He played unbelievable. He was unplayable in the first set. I still had chances in the second and the beginning of the third, but he played better than me," Nadal said.
"The thing is everybody saw the match on Saturday, so everybody's free to make his own opinion.
"But I don't want to say I lost the match because I was tired. What I'm going to say is I lost the match because I played against a very good Roger Federer on one of his favorite surfaces.
"When he's playing like this it is very difficult to stop him but it was a fantastic week for me."
Federer's victory here will only add to the intensity of the focus on their rivalry next year, but Nadal insists he doesn't feel under any pressure to emulate his feats of the past 12 months.
"It doesn't make any differences if I won three Grand Slams this year or if I won one or two. When I start the season, everything starts again," he said.
"In Australia or in Doha when I start the season, I have zero points. So we start from there. The first goal is qualification for London next year and after we will see."