LONDON, April 17, 2011 (AFP) - Rio Ferdinand has blasted Mario Balotelli for taunting Manchester United fans after Manchester City's FA Cup semi-final win at Wembley.
Balotelli infuriated Ferdinand and his team-mates after the final whistle on Saturday as he waved the badge on his shirt in the direction of United supporters in celebration of City's progress to the final.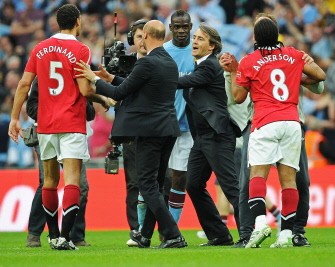 AFP - Manchester City's manager Roberto Mancini (2nd R) tries to calm an argument between Balotelli (3rd R) and Manchester United's Brazilian midfielder Anderson (R) and English defender Rio Ferdinand (L) after the FA Cup semi-final
The City striker also winked sarcastically at Ferdinand as the players left the field and the pair had to be separated by their team-mates.
Ferdinand, writing on micro-blogging website Twitter, said: "If you score a goal and give a bit to opposing fans I kind of accept that but at the final whistle (you should) go to your own fans and enjoy it, not opposing fans.
"If I offended anyone, I apologise, emotions obviously running high."
The defeat ended United's bid for the treble but Ferdinand wants his team-mates to bounce back by winning the Premier League and Champions League.
"Disappointed we didn't get the win we were looking for," he said. "Now let's go and win some silverware."
Ferdinand did have something to celebrate after his wife gave birth to his first daughter just hours before kick-off.
The England defender left United's hotel on Friday to make the 200-mile journey back home to Cheshire.
He was just in time to be at wife Rebecca's side for the birth before racing back to London for the match.
"We had a baby girl named Tia Ferdinand!" he said. "Want to thank the ambulance service and all the Wythenshawe Hospital staff for helping my baby arrive safely."