MANCHESTER, England, April 8, 2010 (AFP) - Sir Alex Ferguson admits Manchester United have to win their last five Premier League matches to have any chance of salvaging a season which has suddenly imploded in the space of a week.
When Ferguson's team flew to Germany for the first leg of their Champions League quarter-final against Bayern Munich, they were firmly on course for the treble.
But in just eight days those dreams have been shattered in spectacular fashion as United surrendered the lead in the Premier League after a defeat against title rivals Chelsea and then crashed out of Europe to Bayern Munich on away goals on Wednesday.
Despite losing 2-1 in Munich, it seemed United were set to book their place in the semi-finals as Darron Gibson's strike and two fine finishes from Nani put the hosts 4-2 ahead on aggregate at Old Trafford.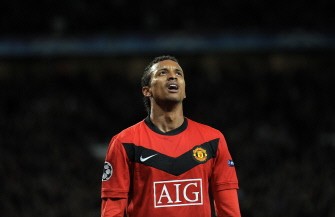 Manchester United's Portugese midfielder Nani looks on after the UEFA Champions League second leg quarter-final football match Manchester United vs FC Bayern Munich at Old Trafford in Manchester on April 7, 2010. AFP photo
But Ivica Olic reduced the deficit just before the break and then United defender Rafael da Silva was sent off for two bookings, giving Bayern the impetus to score again through Arjen Robben.
That was enough to seal United's fate and Ferguson knows their only chance of adding another trophy to the League Cup is to win their remaining league matches and hope for a slip from Chelsea, who are currently two points ahead.
"It's not a blip. We've had three bad results, that can't be a blip. It is unusual for our club to have that," Ferguson said.
"We have a situation now where we are out of the European Cup and we have to win our next five games.
"It is straightforward. There is no other issue. We have to go for it."
United's attempt to overhaul Chelsea starts on Sunday at Blackburn, where they will be without Wayne Rooney after the England forward's surpise return to the team following an ankle injury came to a premature end.
Rooney wasn't expected back for two weeks, but Ferguson opted to risk his star man and the gamble backfired as he was eventually substituted in the second half after aggravating the problem.
"It is a burst blood vessel just below the ankle joint. He won't be out for too long. It was never a serious injury. He was unlucky he went over on it again," Ferguson said.
"He had a couple of challenges on it and didn't get protection from that but we expected that.
"I don't think he will be in contention for Sunday but he will be back next week."
Ferguson gave Bayern little credit for their impressive fight-back, opting instead to criticise the German team for calling for Rafael to be sent off following his 50th minute tug on Franck Ribery, which followed a first-half booking for lashing out at Mark van Bommel.
"The Bayern players got him sent off, there's no doubt about that. It was only a little tug by the lad. He was 35 yards from goal and wasn't even a goal threat," Ferguson added.
"I thought it was typical professionalism. They saw the opportunity and almost forced the referee to get the card out. He wasn't going to do anything before that. But we have seen it before from teams like that.
"It's hard to digest something like that. In one way I can say we've thrown it away, but in another I would say we were very unlucky," Ferguson said.
"With 10 men in a game of that magnitude it is very difficult. Then they had control of the ball, which they hadn't had before that in the whole match.
"Even then they only had one chance, the header from Mario Gomez, before they scored a fantastic strike from Robben.
"Luck is part of the game. We have to accept that. On many occasions we have had the luck, but Bayern carried the luck in this particular tie."
If history is anything to go by, Bayern must now fancy their chances of reaching the final for the first time since 2001, when they defeated United in the quarter-finals en route to victory over Valencia in the final.
But boss Louis van Gaal has no intention of underestimating Lyon, who knocked out Real Madrid's star-studded team in the last 16 this season.
"I saw Lyon play against Madrid and they were well organised and a difficult team to beat. But we have a game against Bayer Leverkusen at the weekend and we have to concentrate on that before playing Lyon," he said.