MANCHESTER, England, March 12, 2010 (AFP) - Sir Alex Ferguson has tipped Fulham manager Roy Hodgson as the ideal candidate to coach England if Fabio Capello ever decides to quit.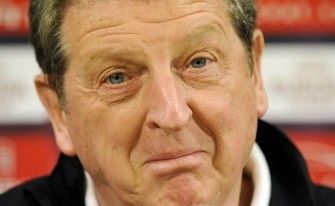 Fulham's manager Roy Hodgson gives a press conference at Juventus football club headquarters on March 10, 2010 in Vinovo, west of Turin, on the eve of the UEFA Europa League football round of 16 match between Juventus and Fulham. AFP PHOTO
Ferguson has been impressed with the way Hodgson has quietly transformed Fulham into a side capable of upsetting the Premier League's big guns and holding their own in the Europa League.
In just two years Hodgson, whose team face United at Old Trafford on Sunday, has revitalised a club that was in danger of relegation from the top-flight when he arrived.
They have beaten Ferguson's Manchester United twice at Craven Cottage as well as reaching the last 16 of the Europa League this season.
And former Inter Milan boss Hodgson already has experience of international management after spells in charge of Switzerland, Finland and the United Arab Emirates.
Ferguson believes those credentials should make the 62-year-old Englishman one of the front runners for the job when Capello eventually leaves.
"Roy Hodgson has great experience, the kind of experience you need in international management. He would be ideal for that type of thing," Ferguson said.
"Fulham has been a remarkable story. Roy has brought his experience and authority to the club.
"He has formed a team that no-one likes to play against. They are very well organised and they play with great discipline. That is down to the manager.
"Two years ago when Roy went there, they were third bottom of the league. Now they are playing European football. He has turned the whole club round. It is a remarkable story."
While Ferguson was happy to talk up Hodgson, he doesn't expect Capello to walk away from the England job if his team enjoy a successful World Cup in South Africa later this year.
"I am sure if Fabio does well at the World Cup, he will want to stay on as England manager," he added.
"Why would he not want to? It is the hardest challenge for him because the expectation is high and he looks to me to be the type that relishes that."