LONDON, May 30, 2011 (AFP) - Manchester United manager Sir Alex Ferguson believes English coaches must be allowed to spend more time with young players if Premier League clubs are ever to emulute the sublime skills of European champions Barcelona.
Ferguson's side were destroyed by Barca in the Champions League final on Saturday as Lionel Messi, David Villa, Xavi and company romped to a 3-1 victory.
The statistics from the Wembley clash showed that United completed just 301 passes, while Messi, Xavi and Andres Iniesta beat that between them as the Catalans achieved 63 percent possession.
As Ferguson faced up to the task of trying to catch up with Barca next season, the United boss feels English teams are being handicapped by rules agreed between the Football Association and Premier League that prevent clubs working with youngsters aged 16 and under for any longer than 90 minutes a day.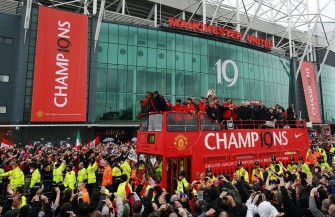 AFP - Manchester United supporters welcome a bus carrying the players and officials at Old Trafford in Manchester, north west England, on May 30 2011 as the team celebrate on the streets after winning the Premier league
"People have to understand the mechanics of the industry we are working in," Ferguson said.
"We are only allowed to coach youngsters for an hour and a half, they -- Barcelona -- can coach every hour of the day if they want to.
"That's the great advantage they have got. It is a fantastic philosophy.
"We hope that in years to come our coaches will be able to spend more time with young kids, to teach them the basics, the technical abilities and the confidence to keep the ball all the time.
"We are good at it, but not as good as Barcelona at this moment in time.
"It is a wonderful challenge and we should always accept a challenge."