MANCHESTER, United Kingdom, Jan 23, 2011 (AFP) - Sir Alex Ferguson saw Manchester United maintain their impressive unbeaten start to the season and claimed his club has the depth and experience to hold onto their position at the top of the Premier League.
A Dimitar Berbatov hat-trick, with additional goals from Ryan Giggs and Nani, eased United to an emphatic 5-0 victory over Birmingham and allowed Ferguson to take key players such as Patrice Evra and Ryan Giggs out of the fray to rest for matches ahead.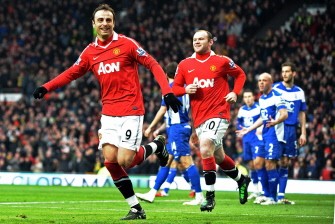 Dimitar Berbatov (L) celebrates scoring his first goal during the match on January 22, 2011. AFP
United's next match is a re-arranged fixture at Blackpool on Tuesday -- a game for which Rio Ferdinand (groin) and Michael Carrick, who injured his ankle in the first half against Birmingham are both doubtful -- although the United manager believes his in-form team can cope.
"It helps our goal difference, no doubt about that," said Ferguson of a victory which extends United's unbeaten run to 22 league games this season, 27 dating back to last term.
"We have some tough games ahead of course. Hopefully the players can grasp the nettle. They have good experience, we've got the squad and hopefully we can manage all the games ahead.
"I was pleased with a good team performance. What helps is you score the early goal, getting a goal after a minute, they have to open up. It's a different perspective you have to face and we capitalised on that.
"It was a good scoreline at half-time and I was able to take Patrice Evra off, gave him a break by bringing on Fabio, and take Ryan Giggs off which was important because we have a big game on Tuesday."
Giggs turned in an eye-catching display, which featured a goal, on the weekend that the 37-year-old has declared that he wishes to spend at least one more season playing for the only club of his illustrious career.
"Ryan Giggs can easily play another year," said Ferguson. "He's as fresh as a daisy, we look after him the right way and he manages himself the right way. Being able to take him off was a bonus."
However, Berbatov -- who has now scored 18 goals this season, 17 in the league, including three hat-tricks -- was the real star of United's performance.
His pairing with Wayne Rooney looks particularly explosive at present although the England forward continues his modest goal production.
Having missed at least one glaring chance, Rooney has now scored just two league goals this season, one of them from the penalty spot.
"We hope so," said Ferguson when asked if Rooney's return to scoring form is imminent.
"He deserves it, he's working his socks off. He was involved in some great football today and involved in the fourth goal just after half-time with fantastic control from a ball from Edwin van der Sar coming out of the clouds, then setting up Ryan.
"Dimitar was marvellous. He could have scored more and we were a bit wasteful at times with our finishing but you can't complain at that performance, that was the important thing.
"His link-up with Wayne was very good. The third goal was a very, very exciting goal. Berba won the ball then his interplay with Wayne, and the ball from Wayne to Ryan was fantastic. It was an exciting goal and, on the stroke of half-time, killed off the match."
Beaten Birmingham manager Alex McLeish conceded that he and his team were distracted slightly by the looming League Cup semi-final second leg tie with West Ham on Wednesday.
"I had one eye on that," he said. "You can play your best team or shut up shop. We decided to go with some of the forward players who would play to their strengths.
"But we never got our passing game going. We had a small spell when we got behind them but we gifted a second goal and it was verging on the amateur. You can play your best and most experienced defenders and still lose.
"We were perhaps a bit bold and sometimes you get punished and sometimes it pays off -- we were punished here. We shot ourselves in the foot. We have a group of players who bounce back well. Taking a drubbing today, people will ask whether if will affect confidence but in the dressing room, they are more angry than anything else."