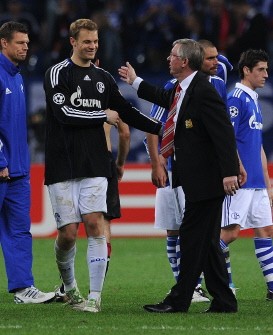 Sir Alex Ferguson (R) gestures towards Schalke's goalkeeper Neuer after the Champions League semi-final. AFP
GELSENKIRCHEN, Germany, April 27, 2011 (AFP) - Manchester United coach Sir Alex Ferguson poured praise on Schalke 04's Manuel Neuer after the Germany goalkeeper's defiant performance in his team's 2-0 Champions League defeat on Tuesday.
Neuer kept his side in the semi-final, first leg tie with a sequence of stunning saves in the opening period, only for second-half strikes from Ryan Giggs and Wayne Rooney to earn United a victory that scarcely reflected the extent of their dominance.
"In my time at United, it's probably the finest display of goalkeeping against us," said Ferguson of Neuer.
"I'm sure there have been other feats but tonight I saw a very good one."
Neuer -- a reported United target -- saved brilliantly from Rooney, Park Ji-Sung and Javier 'Chicharito' Hernandez in the first 45 minutes, before racing out to deny Giggs shortly before half-time.
"There was a frustration towards the end of the first half when he made that final save from Ryan," acknowledged Ferguson.
"When that move broke down, our players started walking back and I sensed their frustration. I had to correct that at half-time.
"What broke the camel's back was Chicharito's goal that was offside (in the 50th minute). The players realised then that they could beat the guy. It wasn't easy."
Neuer announced recently that he will not extend his contract with his boyhood club, which is due to expire next year, and the 25-year-old is widely expected to join Bayern Munich in the summer.