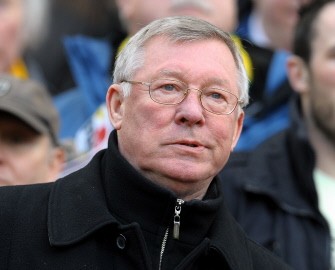 Sir Alex Ferguson
MANCHESTER, England, April 23, 2010 (AFP) - Sir Alex Ferguson is confident Gary Neville will continue his Manchester United career into a 19th season.
Neville, 35, has impressed in the last few months as United chase a fourth straight English Premier League title, which would be the 12th of the defender's career.
The England international's past two campaigns have been wrecked by injury but Neville's recent performances have led to questions as to why he has not followed fellow Old Trafford stalwarts Ryan Giggs and Paul Scholes in signing on for another season.
Neville himself has remained non-committal about the situation, maintaining he would leave a decision until the end of this term.
Ferguson thinks the right back's performances have put him in contention for Fabio Capello's World Cup squad and those claims were further underlined last week when Neville kept in-form Manchester City winger Craig Bellamy quiet in United's 1-0 win at Eastlands.
And the United manager is sure Neville will be around for at least another year despite a lack of contract talks.
"He's unbelievable," Ferguson told reporters here on Friday. "I don't know what you can say about Gary Neville. He's an amazing man, absolutely amazing.
"He's used his experience to the full. Craig Bellamy is a handful but Gary will have studied every bit about him.
"That's what he does. He studies everything about him and had him under control last week," Ferguson explained.
"I think Gary will be here next year. I don't think we have spoken (about contracts). I don't think have had any dialogue at the moment."
But there was no denying the admiration Ferguson, who has been in charge at United since 1986, had for Neville's ability.
"When you are out of the game in your 30s for a year-and-a-half, for most players it is impossible to come back to the level he is now.
"But he's an incredible man, really incredible. I wouldn't be surprised if he went to South Africa.
"It's not my job to say that. It's difficult enough for an international manager but I wouldn't be surprised if he (Capello) chose him," added Ferguson who was caretaker manager of his native Scotland at the 1986 World Cup following the death of Jock Stein.
Meanwhile, Ferguson has cooled speculation about the futures of midfielder Michael Carrick and goalkeeper Ben Foster.
Carrick has been a peripheral figure with United in recent weeks but Ferguson maintains the England midfielder's lack of action is simply due to the form of his rivals.
"Darron Gibson's had a great spell for us, showed he can score goals from outside the box. Scholes's form has been magnificent. What can you say? Drop Scholes?," Ferguson said.
Foster began the season as first choice due to Edwin van der Sar missing the first couple of months with a hand injury and was even involved with England.
But a succession of errors saw him slip to Ferguson's third choice, behind Tomasz Kuszczak.
Former England goalkeeper Peter Shilton is among those who have urged Foster to leave United if he wants to revive his international ambitions but Ferguson is adamant the shot-stopper still has a future at Old Trafford.
"Ben Foster has been unfortunate.
"It's just he made some mistakes earlier in the season. Tomasz Kusczcak got in, and his form has been great.
"Tomasz has had a great season. Every time he's played he's been outstanding. So what do I do? Pick Ben because he's English? Or go with form?
"I have to go with form. Tomasz has been in better form than Ben Foster this year. That's the only reason. Ben will come back."
English champions United are just a point behind Premier League leaders Chelsea and will go two points in front if they beat Tottenham Hotspur on Saturday, 24 hours before Chelsea face Stoke.