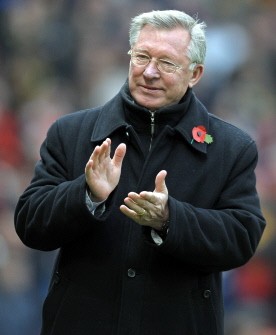 Sir Alex Ferguson at Old Trafford in Manchester on November 6, 2010. (AFP)
MANCHESTER, England, Nov 9, 2010 (AFP) - Sir Alex Ferguson insisted on Tuesday that Manchester City's huge transfer spending does not make silverware an inevitability.
Ferguson takes his United side across town to Eastlands on Wednesday night for one of the most-anticipated derbies in decades.
The rivalry between the two clubs has reached new levels since the Abu Dhabi United Group took over at City in September 2008.
Since then, under Mark Hughes and Roberto Mancini, City have spent significantly in almost every transfer window to overhaul their squad at huge cost.
Their most controversial signing was taking Carlos Tevez from United in the summer of 2009 and there were also linked with a move for Wayne Rooney during the England forward's contract dispute.
But City were defeated in both Premier League derbies last season as well as losing out in the League Cup semi finals.
Mancini spent in the region of 130 million pounds to sign half a dozen players in the summer but Ferguson is adamant that will not necessarily translate to silverware like it did for Blackburn, who won the Premier League on the back of Jack Walker's spending in the mid-1990s.
Ferguson said: "It's a different league now. It's a really competitive league and if you look at the results from the weekend, they tell you everything.
"This is a really difficult league to win and points will be dropped between now and the new year and it'll build up to a really fantastic run in for the Championship and there will be points dropped in the run in too because that's the kind of league it is now.
"It's difficult to say. It's better than not having (money) but it's still a difficult league to win and they know that. City recognise that themselves."
Ferguson has been critical of City's approach in the past but insists he can not argue with their right to spend significantly in the transfer market.
He added: "If people have money to spend and want to spend it, they'll spend it. "Chelsea did the same and Sunderland did the same back in the 50s.
"It's just a fact of life, it's availability. Clubs spend money through what they're going to get off the television every summer.
"They know they're going to get a certain amount of money from television and they spend it immediately in trying to improve their teams.
Although the injection of money at City has escalated the rivalry between the clubs, Ferguson is adamant the game will never be like the match against traditional rivals Liverpool.
He said: "It's a different type of derby to the Liverpool game.
"The Liverpool game is one of honours in terms of trophies won. Liverpool edge it in terms of European Cups and we edge it in FA Cups and World Championships that type of thing and that is undoubtedly the two most successful clubs in British football.
"When we meet it's a different type of derby game. Now the game between ourselves and City is one of great intensity.
"It's built up by the media explosion around what City are doing and trying to achieve in their own way and the fact we're both in the same City. There's an incredible intensity in the derby game now which wasn't there 10 or 15 years ago.
Ferguson admitted his plans for the match are still being hampered by a virus that is sweeping through his squad.