LONDON, April 30, 2010 (AFP) - Manchester United manager Sir Alex Ferguson has hailed Fulham's progression to the Europa League final as "one of the best performances of all time."
Roy Hodgson's men came from behind to beat Hamburg at Craven Cottage on Thursday evening to confirm their place in the first European final in the small west London club's history.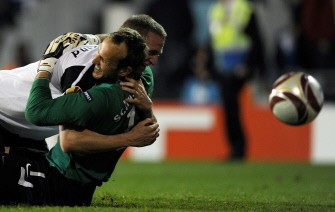 Fulham's defender Brede Hangeland (L) jumps on Mark Schwarzer at the final whistle against SV Hamburg during their UEFA Europa League, semi-final 2nd leg football match at Craven Cottage in London on April 29, 2010. AFP PHOTO
Ferguson sent Hodgson a text message before the game wishing him luck and was full of praise for the Fulham manager.
"Roy should be manager of the year, there is absolutely no doubt about it," he said.
"I sent Roy a text message and everyone at the club was wishing them all the best.
"When you go 1-0 down to a German team you say to yourself it is going to be hard but the comeback was fantastic."
Fulham's season began back in mid-July against FK Vetra of Lithuania and nine months later they are still going strong, much to Ferguson's amazement.
"I heard people on the radio this morning saying that they didn't play well. It was their 59th game of the season and people were talking about their performance," he added.
"He was doing well to get those players onto the pitch because he can only have about 16 players in his squad.
"They still have another four games to play yet. That will be 63.
"They started in that tournament in July. July! Crikey. I was on the beach."