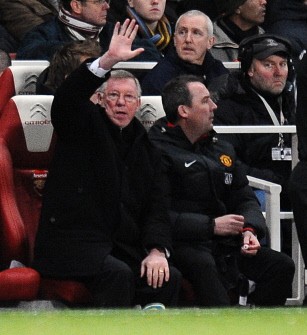 Sir Alex Ferguson (L). AFP photo
MANCHESTER, England, April 23, 2010 (AFP) - Manchester United manager Sir Alex Ferguson has dismissed reports he will confirm his retirement at the end of next season.
"It is rubbish," Ferguson told a news conference here on Friday.
"There is no truth in it. I have no intention of retiring and if I did the people I would tell are (chief executive) David Gill and the Glazer family (United's owners)."
The veteran boss, who turns 69 at the end of this year, has been in charge at Old Trafford since 1986.
But the Scot appears to be relishing the job as much as he ever did and, with reigning English champions United in the hunt for another Premier League title, is in no mood to give way to the likes of Inter Milan and former Chelsea manager Jose Mourinho, as has been reported.
"There is pressure in life. I can deal with it," added Ferguson, who announced he would step down in 2002 only to change his mind.
"The only thing that determines whether I stay here is my health. And I am in rude health."
Arsenal manager Arsene Wenger, a longstanding rival of Ferguson, said the United boss's determination to carry on came as no surprise to him.
"You see from the way he behaves and manages his team that the hunger is there," said Wenger, 60, whose current contract runs out at the end of next season.
"As long as he will live the hunger will be there for success. That is something that does not die in you.
"When you get older you have to analyse and consider your health, whether you have the physical strength to do the job. But to me at the moment he does not look to have any problem. It is always interesting facing him."
Meanwhile Ferguson feels last weekend's results have thrown the title race wide open.
United won their derby at Manchester City 1-0 and Chelsea slipped up with a 2-1 defeat by Tottenham Hotspur, leaving the Blues, who had looked strong favourites for the title, just a point above the champions.
Ferguson's men once again have the chance to apply pressure to Carlo Ancelotti's team when they face Tottenham on Saturday -- 24 hours before Chelsea take on Stoke.
Tottenham are currently holding on to fourth place following back-to back victories over Arsenal and Chelsea after losing to Portsmouth in the FA Cup semi-final.
Ferguson reckons Spurs are on a run as good as any side in the Premier League has managed this season and is wary of Harry Redknapp's side.
But he thinks the victory over City, who are, like Spurs, challenging for Champions League qualification, has given United a major boost going into their final three games of the season.
"There's been a lift around the club this week, no doubt," he said. "There's always been a sense of atmosphere around the place, but in training this week it's been noticeable, the lift. Training has been very competitive.
"We just need to do our job and let Chelsea deal with their situation.
"We know we have to win, that's the important thing."
Ferguson added: "This is the best Tottenham side of my time here.
"They have beaten two of the best three teams in the league and that is championship form and it is the kind of run that no-one other than ourselves and Chelsea have managed this season."
Ferguson has central defenders Rio Ferdinand and Wes Brown back in training ahead of the Tottenham match and feels England striker Wayne Rooney is improving after his recent ankle problem.
Brown has not featured since suffering a foot injury at the start of March.