MANCHESTER, England, Jan 24, 2010 (AFP) - Sir Alex Ferguson has pleaded with Manchester United supporters to put their dissatisfaction with the club's owners behind them and back his team as they attempt to retain their Premier League title.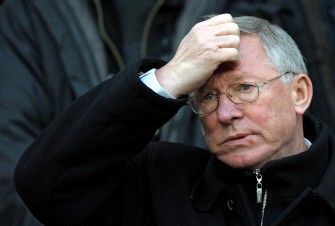 Manchester United manager Sir Alex Ferguson during the English Premier League football match between Manchester United and Hull City at Old Trafford on January 23, 2010. AFP PHOTO
Before Saturday's 4-0 victory over Hull, which featured an astonishing four-goal performance from Wayne Rooney, Ferguson used his programme notes to appeal for United's increasingly militant fans to cease their campaign against the Glazer family.
"The family of Manchester United is under pressure as a result of all the issues and controversies surrounding the ownership and financial situation of our club," wrote Ferguson. "Some of our fans are clearly unhappy with the financial position, but we mustn't allow the situation to become divisive.
"I could see our opponents rubbing their hands with glee at the thought of watching us fall out among ourselves if we don't all think carefully about what we are doing."
During the victory over Hull, which took United to the top of the table for the first time in over three months, supporters sporadically broke into chants against the Glazers although Ferguson insisted that was no problem for his players.
"I don't think it was dissenting against them at all and I don't think it affected the players," he said.
Instead, Ferguson focused upon Rooney's performance, which took his season's tally to 20 goals, three short of his personal best.
"Wayne's goals were, without a doubt, the highlight," said Ferguson.
"It's the first time he has scored four for us and the first time a United player has scored four since Ole Gunnar Solskjaer some years ago.
"That was pleasing. He's in great goal scoring form at the moment. I think he'll better 23, I'm sure of that. He's in great goalscoring form and that's an encouragement for Wayne. He'll want to develop himself as a scorer and today there were some terrific finishes."
Ferguson was also content with the return of England defender Rio Ferdinand for the first time since October.
He said: "I thought, apart from a spell with 20 minutes to go, that the back four looked very comfortable. Rio's presence, composure and balance stands out."
United now stand top of the Premier League for the first time in over three months, the sort of position Ferguson insisted he wanted to be in at the start of the year.
"Goal difference could be important and it's significant being top at this time of the season," he added. "I know opponents have games in hand but they have got to win those games. We're in the right place. It's better being top in January than anywhere else."
Opposite number Phil Brown joined in the praise for Rooney's astonishing efforts.
"When you've got the quality of Wayne Rooney playing against you, you don't feel hard done by with that scoreline," he said. "Half chances came along, we didn't take them and he did.
"Just because of his work rate, his application, he puts defenders under constant pressure and forces them to make mistakes.
"That was the difference between the two teams and we didn't have the collective mentality and belief we had last week at Spurs.
"I would have to say Wayne is the best in Europe right now, having witnessed what I have just witnessed. It certainly bodes well for England this summer!"
Brown will now concentrate on a crucial home fixture with Wolves next weekend and added: "I am confident we can get out of trouble and we now have a full week to prepare for a team we are capable of beating."