MANCHESTER, England, Jan 5, 2011 (AFP) - Sir Alex Ferguson, the Manchester United manager, saw his team successfully meet his target of opening the new year in first place in the English Premier League and then fired a warning to their title rivals after a 2-1 victory over Stoke.
Goals from Javier Hernandez and Nani, either side of Dean Whitehead's surprising equaliser at Old Trafford here on Tuesday, left United three points clear of Manchester City, at least for the 24 hours before their local rivals play Arsenal, with a game in hand.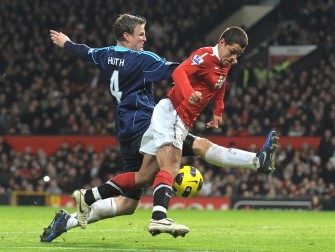 Stoke City's German defender Robert Huth (L) vies with Manchester United's Mexican forward Javier Hernández during the game. AFP
Veteran United manager Ferguson, who turned 69 last week, said history indicated his team deserved its billing as favourites to win a record 19th English championship and pointed to the coming month as a pivotal period.
"We're pleased about that," said Ferguson when asked about the league table. "I think we're going to be in the shake-up.
"Once you get to the new year it gives you a good guide where you are going to be at the end of the season and history tells you we play better in the second half and big games are not an issue. We relish that.
"January is going to be a big month for us. We've got Liverpool in the (FA) Cup and then Tottenham the next week.
It was a far from convincing United display for a line-up without Edwin van der Sar, Wayne Rooney and Rio Ferdinand although the victory means that only West Bromwich Albion -- in a draw in October -- have taken points from Old Trafford this season.
But United are still the only unbeaten side in the league this season and Ferguson defended making some unenforced changes against Stoke by insisting: "It will be a busy month and it was important to get these players playing.
"You have to have faith in your squad and I do. In the games they've played they've never let me down."
"You can look as many stats as you like - shots at goal, passes, things like that," said Ferguson. "But I look at our home performances and our home performances have been fantastic.
"Away from home we had two bad performances -- Sunderland and on Saturday at West Brom, a battling performance at Birmingham where we should have won.
"Other than that, we have had some good performances away from home. We have dropped some points away but that doesn't mean we didn't play well.
"We're an easy target for that kind of thing. We've got to dismiss it and concentrate on what our ambitions are - which are to win the league."
Javier 'Chicharito' Hernandez scored his sixth goal of the season -- and his third against Stoke -- as well as having a hand in Nani's winner and Ferguson conceded the Mexican forward will leave him with a selection headache when Rooney recovers from his ankle injury.
"That's the kind of problem you want," Ferguson said. "Over the years the strikers I've had have always given me that problem -- that's their job.
"If Chico keeps sticking the ball in the net it does give you a problem."
Tony Pulis, the Stoke manager, paid tribute to his team's conquerors and had no doubt United had the mental strength to win the title.
"They know how to win games and there's a mentality at the football club," he said. "This club is used to winning and it's ingrained within the club. It gives you that edge and will hold them in good stead again this season.
"I'm certain they'll have a run when things won't go that well but they've got the quality and the depth to do it again."