TOKYO, May 23, 2011 (AFP) - FIFA president Sepp Blatter has vowed to launch a counterattack against those who alleged the organisation is corrupt unless they present hard evidence of wrongdoing, a report said Monday.
He told Kyodo news agency that world football's governing body would not tolerate baseless accusations.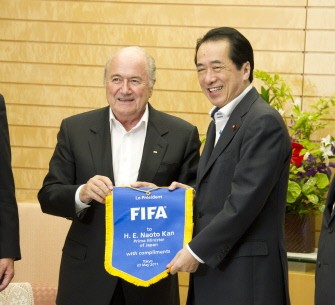 AFP - Japan's Prime Minister Naoto Kan (R) holds a complimentary FIFA banner presented by FIFA President, Joseph Blatter (L) prior to their talks at Kan's official residence in Tokyo on 23 May, 2011.
"We will take action against those who brought this to public knowledge and they know it," Blatter told Kyodo. "Let's wait and see. I'm not a prophet on what will happen in the next days but something will happen."
Blatter said FIFA still had yet to receive any evidence to back the recent corruption allegations made by former England Football Association chief David Triesman and the Sunday Times.
Triesman told a British parliamentary inquiry that four members of FIFA's executive committee asked for favours in exchange for their votes during the 2018 World Cup bidding process.
The Sunday Times reported, citing a whistleblower, that two other members of the committee took bribes for their votes from Qatar's successful 2022 bid campaign.
"But without evidence, we can do nothing else than to blame those who put out such allegations into the world. Then our ethics committee must immediately act," Blatter told Kyodo.
FIFA has been beset by allegations of corruption in the run-up to its June 1 leadership election, when Asian Football Confederation president Mohamed Bin Hammam will challenge Blatter, who is seeking a fourth and final four-year term.
Blatter was visiting Tokyo to express support for Japan's plans to host the 2011 Club World Cup as scheduled despite the devastation of the March 11 quake-tsunami disaster and the ensuing nuclear emergency.
After meeting with Prime Minister Naoto Kan and Japan Football Association leaders, Blatter told a news conference that the "whistleblower" of the Sunday Times report had been invited to the FIFA headquarters in Zurich on Wednesday to present any evidence.
"This case must be settled" before the FIFA congress convenes in Zurich at the end of this month, he said.
Blatter said at the congress he would propose "zero tolerance" of wrongdoing on the field and off.
The FIFA chief said he also had an idea to set up a "kind of commission of wisdom with great names, not only in football but also in our society, to reinstall more credibility in our game, and to set more or better communication toward the media."
On Sunday, British public broadcaster the BBC aired a report claiming FIFA was trying to block the release of a document that reveals the identity of two officials forced to repay bribes.
The settlement relates to alleged bribes paid to senior FIFA officials in the 1990s by sports marketing company International Sports and Leisure (ISL), the BBC reported.
Blatter said the case had been settled by a Swiss court which concluded there was "no wrongdoing" on the part of any FIFA officials or employees.
At that time, the money paid to the officials was considered as "commissions" in Swiss law but it is "bribery" now, he said. "This has been clarified and nobody has been accused."