BERLIN, Aug 14, 2010 (AFP) - Football's governing body FIFA is considering scrapping drawn games from the group stages of the World Cup finals, the organisation's chief Sepp Blatter has said.
The Swiss supremo told German weekly Focus in its edition of next Monday that he wanted to put an end to defense-minded teams playing to get a draw in the early games of the sport's showcase tournament.
"We are considering doing away with draws in the first round ... and also ending extra-time play," he said.
"If there is no winner at the end of 90 minutes of play, we would proceed directly to penalty kicks."
Another possibility, according to Blatter, would be to revive the "Golden Goal" scenario whereby if a match is drawn, the first team to score a goal would be the winner.
That was used in the 1998 competition in France but was abandoned four years later when the finals were held in Japan and South Korea.
The next World Cup will be held in Brazil in 2014.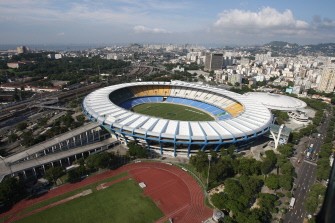 (AFP FILE) Aerial view taken in 2009 of the Maracana Stadium in Rio de Janeiro, Brazil.