ZURICH (AFP) – FIFA's ethics body on Thursday suspended two senior officials for one to three years, in a bid to stifle damaging fallout over misdealings in the race to host football's 2018 and 2022 World Cups.
Claudio Sulser, president of the ethics committee of world football's governing body, said Amos Adamu, of Nigeria, was banned from FIFA's executive committee for three years and Oceanian football chief Reynald Temarii for one year for breaches of the governing body's ethics code.

However, violations of ethics rules on bribery were only retained against Adamu, while allegations of illicit collusion between bidders were thrown out.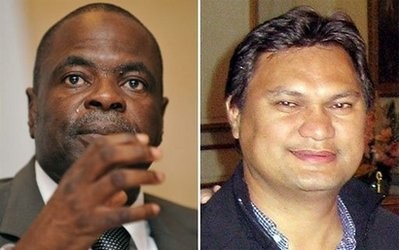 A combination image showing Nigerian FIFA executive committee member Amos Adamu (left, pictured in 2008) and Oceanian football chief Reynald Temarii (also seen in 2008). AFP
Neither of them will be able to take part in deciding the host nations for one of sports biggest events on December 2, FIFA Secretary General Jerome Valcke said.
Both men were fined and four other footballing officials from Africa and the Pacific, two of whom who serve on FIFA disciplinary and refereeing committees, were also banned for up to four years.
FIFA has been trying to salvage the credibility of the selection process for the 2018 and 2022 World Cups after a controversial sting by a British newspaper raised claims of vote-buying.
"When someone joins FIFA they take on obligations and you don't have the right to mistakes," Sulser told journalists, underlining that officials must be "beyond reproach."
"The damage to FIFA's image is great," he underlined.
But the ethics chief also sharply criticised selective reporting by the newspaper behind the allegations last month, The Sunday Times, after the two officials were secretly videotaped by reporters posing as lobbyists.
"For Reynald Temarii, FIFA vice president, he was prohibited from exercising any activity relative football for one year," and fined 5,000 Swiss francs (3,708 euros, 5,059 dollars), Sulser told journalists.
Adamu "was prohibited from footballing activities for three years," and fined 10,000 Swiss francs, he added.
They had been suspended temporarily last month pending the full probe this week, which also covered newspaper claims of collusion between bidders, notably Qatar and Spain-Portugal.
On Thursday, Sulser said the ethics panel "did not find sufficient" evidence to back that allegation.
England, Russia and joint bids by Spain-Portugal and Netherlands-Belgium are in the running to host the 2018 World Cup while Australia, the United States, Japan, Qatar and South Korea are bidding for 2022.
Temarii's lawyer, Geraldine Lesieur, said he was sanctioned for discussing his vote for the 2018 and 2022 World Cup hosts, but "cleared of all suspicions of corruption."
Lesieur said he intended to appeal while legal action against The Sunday Times for libel was also underway.
The events of the past month have revived uncomfortable memories of old influence-peddling scandals over the past decade and late 1990s that shook world football's decision-making body.
FIFA President Sepp Blatter has maintained a ballot by the remaining members of the executive committee, including some from bidding nations, to choose the 2018 and 2022 hosts after a high powered final pitch by the bidders in Zurich in two weeks time.
However, the now 22 strong decision-making body is also due to meet on Friday to discuss the probe.
Asian Football Confederation president and FIFA executive committee member Mohamed Bin Hammam on Wednesday criticised the decision to choose the organisers of two World Cups simultaneously.
The Qatari said voting for one tournament at a time would have reduced the scope of damaging allegations but Asian members who raised the qualms were outvoted on the executive committee.
Blatter, whose post is up for re-election next year, has accepted that with hindsight that decision may have been wrong.
With another report by BBC television on FIFA looming, England 2018 bid chiefs have written to all members of the executive to distance themselves from British media reports, amid fears of a backlash.