Finland's Olympic team became the champions of the Ho Chi Minh City International Football Tournament after crushing Indonesia's national team 5-0 in last matchday. Olympic Cameroon beat U-23 Viet Nam 4-1 to come second.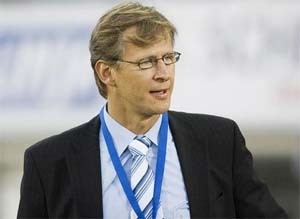 Finland U-21 coach Markku Kanerva, who won the BV Cup together with his team in Ho Chi Minh City
In the final day of the BV Cup, both the Scandinavians and the African lion cubs sought to score as many goals as possible to vie for the trophy and a cash prize of US$40,000.

Finland actually found it easier because Indonesia had lost both of their previous games, while Viet Nam were seeking good performance against the African speedsters, who lost to Olympic China just 0-1 in a friendly in China one week ago.
The Scandinavians earned an easy 5-0 victory over Indonesia under English coach Peter Withe, who said upon his arrival in Ho Chi Minh City early this week that he came to take the trophy. However, his team lost all three matches, conceding eight goals in all.
Seeing Finland score five goals, Cameroon tried their best to net in the later game with Viet Nam at Thong Nhat Stadium. However, the home side in early minutes succeeded in repulsing the speedsters, who played strongly and aggressively during the match.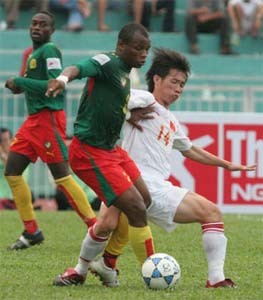 Viet Nam's Le Tan Tai fights for the ball with a Cameroon player (Photo: VietnamNet)
Moreover, the hosts stunned Cameroon with the opening score after 30 minutes. Central defender Huy Hoang played a very long ball to striker Le Cong Vinh, who in turn lobbed the ball over the Cameroon keeper into his net. A world class goal was scored after only two touches.
Cameroon immediately bounced back extremely strongly and they equalized just the next minute. Bakamengo approached Viet Nam's box and made a low cross to Boukar, who was not challenged at all and easily beat keeper To Vinh Loi with a strong shot. It was likely that some Vietnamese players did not make enough concentration to stop their opponents just after the home team's stunning goal.
Four minutes later, striker Cong Vinh had a chance to face the Cameroon keeper but he failed to net – the goalie made a good save.
The African speedsters never stopped playing aggressively but the Vietnamese did not play slowly to spoil the other side's tactics. Just five minutes after the break, Viet Nam defender Minh Thien missed the ball when he tried to kick it away from the box and Boukar scored his second goal.
In the 77th minute, Bakamengo netted again with a very strong shot at the edge of the box. Defender Minh Duc challenged him very carefully but the Cameroon striker's sudden and clever turn defeated the defender.
At the 3-1 score, Cameroon needed two more goals to pass Finland in goal difference to take the trophy. However their efforts resulted in only one, so they came second with a cash prize of US$20,000 – half of that for the champions from Europe. In the end, Cameroon scored six goals and conceded one while Finland netted six goals and their net was completely clean.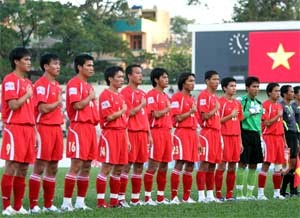 U-23 Viet Nam in BV Cup in Ho Chi Minh City (Photo: SGGP)
Viet Nam ranked third with US$10,000. Local fans understood that the Olympic team from Cameroon, the country that won the 2000 Sydney Olympics, were too strong for their beloved team. However, it was only Viet Nam that scored a goal when playing Cameroon in the BV Cup – both Finland and Indonesia did not.
Viet Nam will fly to Qatar on November 24 to compete in the Asian Games in Doha.

BV Cup results

Wednesday
Indonesia – Cameroon  0-2
Viet Nam – Finland   0-1
Friday
Cameroon – Finland  0-0
Indonesia – Viet Nam 0-1
Sunday
Finland – Indonesia  5-0
Viet Nam – Cameroon 1-4
Related articles
Viet Nam Beat Indonesia, Revive Hopes in BV Cup

Cameroon, Finland Take the Lead in Football Cup

Tough Football Tournament for Viet Nam before Asian Games