Wushu athlete Duong Thuy Vi won the first gold medal for Vietnam on September 21 in the 17th Asian Games (ASIAD) currently being held in the Republic of Korea.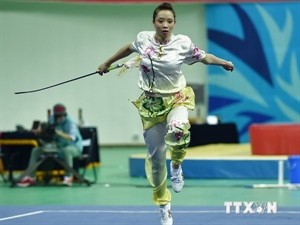 Wushu athlete Duong Thuy Vi (Source: VNA)
Vi was awarded 9.71 points for her performance in the women's jianshu category and 9.70 points in the changquan category, and came out of the competition as Wushu champion. She was followed by Macau's Li Yi with 19.39 points in total.
The young talent was also the first athlete to win a gold medal for Vietnam during the 27th Southeast Asian Games (SEA Games) in Myanmar in 2013.
At present, Vietnam ranks sixth in the medal list with one gold, two silver and four bronze medals. China is in the lead with eight gold, three silver and five bronze medals.