Sixty-six Vietnamese and foreign rivals took each other on last Saturday in the first ever "To conquer the Fansipan" climbing competition.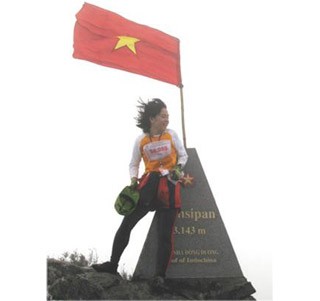 Pham Thi Huyen sits on Fansipan
At 3,143 meters, Viet Nam's Fansipan mountain is the highest in Indochina. Located near Sa Pa in the Hoang Lien Son Mountain Range, it has been called "the Roof of Indochina".
After beginning the competition at the Tram Ton mountain pass, climbers then worked their way up 12 km of mountainside to reach the summit.
Nguyen Van Sy, from the northern province of Thanh Hoa won the men's event with Nguyen Duc Bao from Khanh Hoa province taking second place and local Vang A Tinh third.

In the women's category, Pham Thi Huyen, Le Thi Hang and Nguyen Thi My Lien took first, second and third prize respectively. VND40 mllion, 30 million and 18 million are awarded to the top three winners.
Event organizers tested the climber's health before the competition, issued a map and established 10 medical stations along the route in case of an emergency.
Vietnam Airlines is the chief sponsor of the competition.