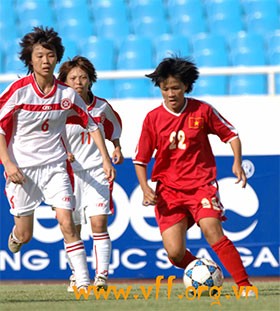 Vietnamese Women footballers (white)
Mai Hoang Trang is the first Vietnamese female to become a FIFA referee for the 2007 season after intense training during her years as an assistant.
Three other Vietnamese female referees - Huynh Thi Phung Tien, Kieu Thi Thuy and Cong Thi Dung - will be registered as FIFA assistant referees.
Three male referees, Duong Van Hien and Vo Minh Tri, along with former FIFA referee Dang Thanh Ha, have been registered for the 2007 season.
Pham Manh Long, who won the Vietnamese Golden Flag award for best assistant referee, and Nguyen Truong Xuan are also registered as FIFA assistants for the 2007 season.