Viet Nam's football team will begin their training session for the Spring Cup on April 10, five days before the tournament kicks off in Ha Noi, head coach Alfred Riedl said on March 28, 2006.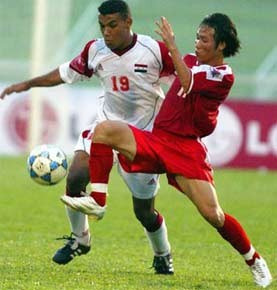 Bronze Ball 2005 winner Le Tan Tai (R) has missed the training session for the Spring Cup because of his club Khanh Hoa's punishment on him
After working with the Viet Nam Football Federation in Ha Noi, the Austrian coach told reporters he would call three goalkeepers, seven defenders, eight midfielders and four strikers for the training session in Ha Noi.
"I will call three more players on standby, making 25 in all. The average age is 23.5 and this is young for a national team. The average age of World Cup 1990 champions Germany was over 30," he told reporters.
"I cannot announce the names for this training time now because the list may not be the final," he added.
Riedl said his boys would have only five days before the Spring Cup takes place from April 16 to 20. "This will be difficult for us because previously we often had two weeks to prepare for a tournament."
"Not having enough time, our training session will focus on tactics."
The Vietnamese Premier League and first division will take a break during the round-robin Spring Cup, in which Viet Nam will compete with the U-23 teams of Australia, Iran and Uzbekistan.
Also on March 28, 2006, Viet Nam's T&T Company signed a VND5 billion (about US$314,800) sponsorship deal with the Viet Nam Football Federation to become the main sponsor of the tournament. It is good news because the federation has faced many difficulties calling for sponsorships, and the public feared that no enterprises would spend their money to sponsor this cup.
Related story
Riedl Rejuvenates Football Squad for Upcoming Tournaments