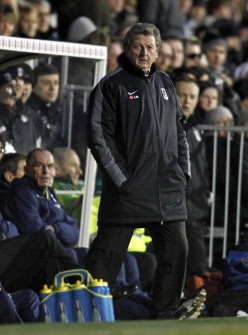 Roy Hodgson looks on during the FA Cup Quarter Final football match between Fulham and Tottenham Hotspur at Craven Cottage in London on March 6, 2010. AFP PHOTO
LONDON, March 7, 2010 (AFP) - Roy Hodgson insisted he had no concerns about Fulham's growing fixture list after a goalless draw with Tottenham at Craven Cottage left the London rivals with an FA Cup quarter-final replay.
Hodgson refused to rule out his side's chances of beating Spurs when the teams meet again at White Hart Lane with a place in the semi-finals and an appearance at Wembley at stake.
With the Cottagers due to face Juventus in the first leg of their last 16 Europa League tie on Thursday, the demands on Hodgson's side are growing all the time.
But the Fulham manager insisted that was a price of success - and one well worth paying.
"Success is what we all strive for and this team has been very successful and a result we're playing a lot of games," Hodgson said after Saturday's stalemate.
"But rather than see ourselves as victims we should bask in the glory because it's not every year we get to play close to 60 games in a season.
"There are many seasons when we barely scrape over the 40-game mark, so let's be glad about it," added Hodgson, whose side are an impressive ninth in the Premier League table.
"One or two players are returning from injury so who knows, by the end of March or early April, I might have a fully fit squad to choose from.
"Things are brightening up in that area. It would be great for the players coming back to have something at the end of the season to play for."
Hodgson added: "It's a wonderful time for the club. We've had a magnificent February. One is always wary that after such a good month, the next one will start poorly.
"I'll quite happily accept the 0-0 and take this to Juventus.
"I remind the players this is what you're a Premiership player for - there are lots of people in lower divisions who are envious. We should be grateful for that.
Spurs manager Harry Redknapp revealed Jermain Defoe was left on the bench after the striker suffered a hamstring injury during England's 3-1 friendly international win against Egypt at Wembley on Wednesday.
Defoe's injury will throw further attention on a pitch at the national stadium that came in for heavy criticism following the League Cup final when Manchester United's Michael Owen was forced off before half-time after also damaging a hamstring.
"Jermain picked up hamstring injuries at Wembley," said Redknapp. "Yesterday (Friday) he looked like having no chance of playing, he was put on antibiotics and felt better this (Saturday) morning so I stuck him on the bench."
Turning to the other end of the pitch, Redknapp paid tribute to goalkeeper Heurelho Gomes after the Brazilian made three good saves to help Spurs hold on for a draw.
It was at Craven Cottage in November 2008, where Gomes, early in his Spurs career, turned in such a poor display he was nearly sold by Redknapp.
"Gomes looks different to the goalkeeper who came here in 2008 when I first arrived," Redknapp said.
"He had a terrible time here then but he's a different lad now, full of confidence who looks what he is - a top keeper."
Meanwhile Redknapp, whose team are fourth in the Premier League and pushing for a Champions League spot, denied he was interested in signing Chelsea's Joe Cole should the England midfielder becomes a free agent at the end of the season.
Cole has yet to agree a new deal that will keep him at Stamford Bridge, although Redknapp said: "Joe's a terrific player but I'm sure he's happy at Chelsea."