BERLIN, Jan 21, 2011 (AFP) - With Dortmund dominating the Bundesliga, Bayern Munich midfielder Thomas Mueller admits this season's title race is effectively over as the defending champions prepare to host Kaiserslautern on Saturday.
Bayern are 16 points behind leaders Dortmund and are fifth in the league.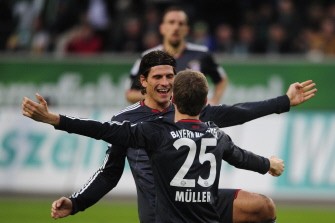 Thomas Mueller (Front) celebrates with Bayern Munich's striker Mario Gomez after scoring the first goal during the Bundesliga match VfL Wolfsburg vs Bayern Munich in Wolfsburg on January 15, 2011. AFP
They host Kasierslautern at Munich's Allianz Arena and with 16 games still to play this season, Mueller admits the champions are more concerned with securing next season's Champions League berth than catching Dortmund.
"We certainly imagined the start of the season would have been different," said Mueller.
"Our minimum target for the season is now to make sure our Champions League place for next season is not in question."
In the last week, both Bayern winger Arjen Robben and striker Mario Gomez have also admitted Munich are effectively out of the running for the German title.
With playmaker Franck Ribery expected to miss the next few weeks with a slight knee injury, Mueller is a candidate for the left wing berth vacated by the Frenchman.
But the German, who finished the World Cup as both the top scorer and voted the best young player, said he has no preference where he is picked.
"I am not a player who says 'I have to play in a certain position and if I don't play there, I am offended'," said Mueller.
"It is more important for me to wear the shirt and play my best for 90 minutes, wherever that may be."
After marking his Bundesliga debut with a stunning save against Wolfsburg in last Saturday's 1-1 draw, goalkeeper Thomas Kraft is expected to remain in goal.
Leaders Dortmund host second-from-bottom Stuttgart on Saturday with confidence buoyed.
Jurgen Klopp's side have a goal difference of 31 and are chasing their 16th win from 19 matches with a near full-strength side.
In contrast, Stuttgart have won just four games all season, but last Saturday's 1-0 win over Mainz shows they are starting to perform under new coach Bruno Labbadia.
Having muscled their way up to second in the league, Hanover are at home to Schalke and with 34 points have already beaten last season's tally of 33 for the entire campaign.
Having lost 1-0 at Hamburg last week thanks to a single goal from Dutch striker Ruud van Nistelrooy, Schalke, 11th in the league, are looking to get back to the form which saw them win five straight games.
Wolfsburg's ex-England coach Steve McClaren needs a win at third-placed Mainz as his side's 1-1 draw with Bayern was their 10th straight game without a win while Mainz need a home win to stay in the title race.

Friday
Hamburg v Eintracht Frankfurt

Saturday
Bayern Munich v Kaiserslautern
Borussia Dortmund v VfB Stuttgart
Mainz 05 v VfL Wolfsburg
Freiburg v Nuremberg
Hanover 96 v Schalke 04
Cologne v Werder Bremen

Sunday
Borussia M'gladbach v Bayer Leverkusen
Hoffenheim v St. Pauli